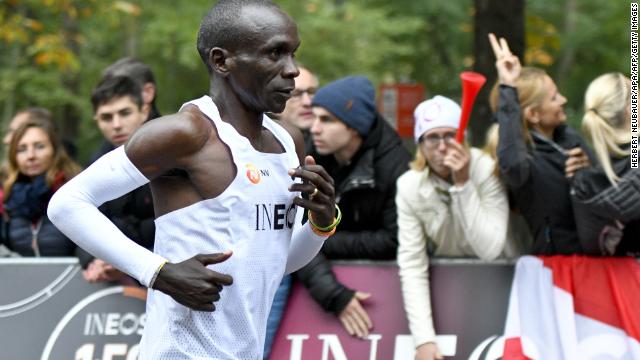 Kenyans have taken to social media to heap praise on Eliud Kipchoge following his record-breaking time of 1:59:40 in Vienna, Austria on Saturday morning.
He beat his own record of 2:00:25 to become the fastest marathoner ever. It was a much-publicized marathon with fans all over the world following the proceedings in Austria.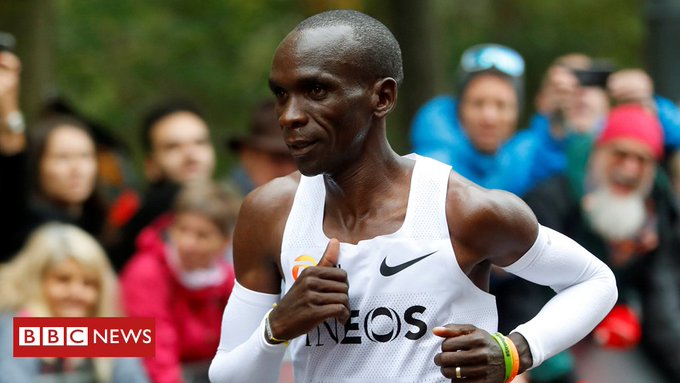 Preparations to the race were top notch with the 34-year old traveling to Vienna in a private jet from his hometown Eldoret.  He had 41 pacesetters from ten different countries captained by US citizen, Bernard Kiplagat.
As he broke the record fans in Vienna cheered him and ecstatic Kenyans on social media were not left behind showering him with all sorts of praises for flying the Kenyan flag high.
The Way Eliud Kipchoge has united Kenya in one day is more than any government has ever done. Imagine hadi Safaricom ikapea wakenya 1590MBs FREE! Imagine! 😭

— BRAVIN™ (@ItsBravin) October 12, 2019
Congratulations Eliud you've made it and made us a part of those witnessing this history . You're the GOAT. No Human is limited #Eliud159

— Oh you guy! (@oyuginelson1) October 12, 2019
You @ChelseaFC please we the fans from Nairobi want you to congratulate @EliudKipchoge on the completion of #INEOS159 #Eliud159

— Competent Writer (@YalaJnr) October 12, 2019
The epitome of inspiration. Eliud Kipchoge. #INEOS159 #NoHumanIsLimited #eliudkipchoge #Eliud159 #Kipchoge https://t.co/4q1aLrX40d

— Gakunga Alpha (@alphagakunga) October 12, 2019
Mood in Kigali Rwanda 🇷🇼
Congratulations @EliudKipchoge
You indeed are the Greatest Marathoner of all Time#Eliud159 #IneosChallenge #NoHumanIsLimited pic.twitter.com/smcPFMq2m5

— Yegon Emmanuel, Certified Storyteller📝📱📸🎥📻📺 (@yegonemmanuel_) October 12, 2019
There are no more questions. @EliudKipchoge is the greatest athlete of All Time.

He is the key to tackling climate change, world hunger and world peace. #Eliud159 pic.twitter.com/HOhkDKydaa

— mwanaume.com (@MarigaThoithi) October 12, 2019
Eliud Kipchoge did it!!

1:59.40 In the marathon, the first human under 2 hours in the marathon 🔥

That's 4 minutes and 33 seconds per mile 😳😳 #Eliud159 pic.twitter.com/Div07RYpw5

— Team Runner For Life (@TeamRunner4Life) October 12, 2019
Nandi is bustling with excitement. #Eliud159 pic.twitter.com/OIZkqSV8JM

— Kimanzi®™ (@Kimanzi_) October 12, 2019
Congratulations #Eliud159 ! So proud of you pic.twitter.com/L8Ait0L2tE

— simon Nzomo (@nzomos) October 12, 2019
I just shed a tear man
Trailblazer 🙌🏾 #Eliud159 pic.twitter.com/Nxl8VEelgA

— karuweezykimani (@karuweezykimani) October 12, 2019