Kenyan athlete and World record holder in the men's Marathon race Eliud Kipchoge will attempt to make history this Saturday. The Nandi born athlete will try to become the first man to run a marathon with a time of under 2 hours in what is dubbed as the INEOS 1:59 challenge.
The marathoner will not be competing with individuals but against time instead. Many questions have risen challenging the probability of Kipchogeaciheveing the feat but new well-calculated evidence has revealed that indeed it is possible.
In fact, one man has already run close to the speed that Kipcgoge will need to run at on Saturday. And yes, that man is Eliud Kipchoge and he did it last year when he broke he set the new marathon record at 2:01:39.
While setting the Marathon record in the Berlin Marathon last year, Kipchoge covered 42,000 meters with a time of 7319 seconds. That means that he was covering 5.74 metres per second.
At the INEOS 1:59 challenge, Eliud Kipchoge will need to cover the same 42,000 meters in a time of 7140 seconds meaning that he will have to travel at a speed of 5.88 metres per seconds. The time difference in speed is only a mere 0.14 seconds.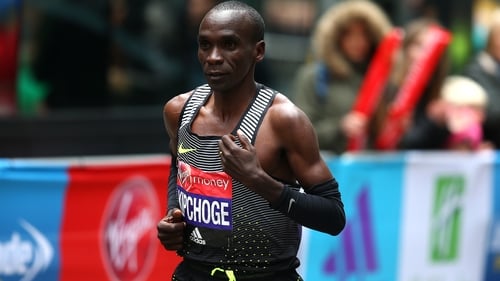 Kipchoge has been preparing all year for this challenge and will without a doubt give his all during the race to cover the difference in time. The race will start anytime from 5-9 in the morning and will be streamed live on YouTube.
Do you think Kipchoge will break the record and make history? Share your thoughts in the comments section below…