Good Morning
Over the past few days, Kenyans have been looking forward to Cabinet Secretary Ukur Yatani's speech on the 2021/2022 budget & today will mark the day when the details will be shared with the public.
With experts terming the 2021/2022 budget of 3.6 Trillion as the largest budget in history some analysts have explained that the figure is expected to be even higher in the coming years as a result of the increased population alongside other factors.
Although the figure has attracted a huge debate, the majority of Kenyans seem to be more concerned about how the government plans on raising the money without pushing the country deeper into debts or digging into taxpayers' pockets.
As captured in the budget, the Executive will be the greatest beneficiary with an allocation of Sh1.89 trillion.
Besides the budget speech being the dominating event of the day, Kenyans are still commenting about the sentiments by fearless David Maraga.
The former Chief Justice caught the attention of many for a greater part of Wednesday evening after he hit back at President Uhuru Kenyatta saying that he will remember him as the Head of State "who disobeyed the law on multiple occasions".
Maraga, during an interview, lashed out at the President and faulted him over his recent action of rejecting the appointment of 6 judges. His bold remarks have since earned him praise from Kenyans who fully sided with his statement.
Meanwhile here are the stories making headlines on Opera News Today
Mombasa Woman Claiming to Be Mukhisa Kituyi's Girlfriend Alleges He Assaulted Her
A Mombasa woman has accused 2022 presidential aspirant Mukhisa Kituyi of assault at a five-star hotel in the coastal city.
Diana Opemi Lutta in an OB report filed at Nyali Police Station alleged the former United Nations Conference on Trade and Development (UNCTAD) secretary-general descended on her with kicks and blows after she rejected his sexual advances.
Bad News For Those Eyeing Uhuru's Mt Kenya Position as His Cousin Reveals The New Plan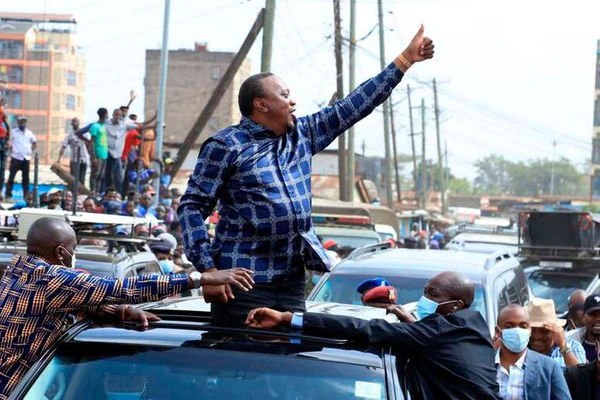 President Uhuru Kenyatta is fully in support of National Assembly Speaker Justin Muturi and his latest moves, Uhuru's cousin and elder Kung'u Muigai has said.
Muturi was last month coronated as the new Mt Kenya spokesman, taking over from Uhuru, a move that has, however, been opposed by some Uhuru allies.
But Kung'u says that the president has no issue with Muturi being in charge and has actually handed him the job of representing him on political matters.
Why Oparanya, Joho made U-turn to back Raila's 2022 bid
The confidence that ODM boss Raila Odinga has secured Uhuru's 2022 backing could have forced governors Hassan Joho and Wycliffe Oparanya to shelve their presidential ambitions.
With Raila considered a key cog in Uhuru's succession matrix, there is a bigger political scheme to bring all the pro-BBI forces under one umbrella to face Deputy President William Ruto in next year's general election.