As the deadly Cornavirus continue to spread, the whole world is living in fear of how to cope with the situation. Several nations have restricted flights from China, which is the hotbed for the killer disease.
Even after Kenya suspended flights to China, it was with great shock that 239 passengers arrived in Nairobi aboard a China Southern flight.
This caused an uproar from Kenyans who wondered why the government would recklessly welcome such a huge number of Chinese into the country while it is a way of putting Kenyans into the risk of getting infected with Coronavirus.
A photo that has gone viral also caused mixed reactions after a taxi driver was seen transporting Chinese from the airport with a mask on.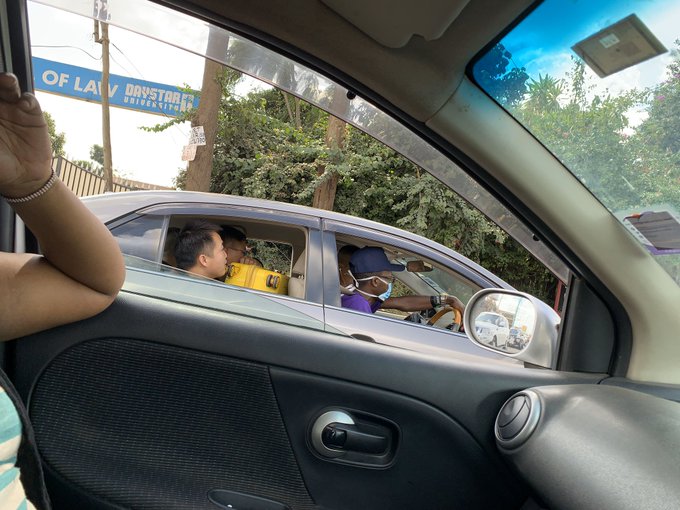 It is ironic that the driver was the only person who had the mask on while all the Chinese on board were all easy. As they arrived at the airport, they were also warmly welcomed by attendants who had no protective gears on without fearing the risk they were putting themselves into.
After their arrival, the Ministry of Health confirmed the resumption of China Southern flights to Kenya.
The department further stated that all the passengers, who were on the Chinese plane, had been given a green light to enter Kenya and were advised to self-quarantine for 14 days.
We have clowns at the top, the government can allow the Chinese to jet into our country and to make matters worse they r told to self quarantine while we have Kenyans stuck in China and the government seems unconcerned, this ass licking is dense. #coronaviruskenya pic.twitter.com/M8badL0lE0

— Stanley Iha (@StanleyIha) February 27, 2020
"All 239 passengers were screened onboard, cleared and advised to self-quarantine for the next 14 days," the department said.
The anger among Kenyans grew bigger as the Chinese arrived while the Kenyan students in China are still held in China for fear of carrying along with the virus into the country.
#CoronaVirusKenya #Talk2Nation https://t.co/5PthhStgEi

— Daily Nation (@dailynation) February 27, 2020
A banana republic risking the lives of 47m people?? Elites we should flock the streets until the govt starts to reason #coronaviruskenya pic.twitter.com/go3iE5x8jt

— IWantANewKenya (@IWantANewKenya) February 27, 2020