Arsenal staged a memorable comeback twice to record a draw away to Chelsea at Stamford Bridge. Goals from 18-year-old striker Gabriele Martinelli and the returning Hector Bellerin were enough for Arsenal despite going down to ten men earlier on in the second half.
Below are the main talking points from the match.
Gabriele Martinelli is a Star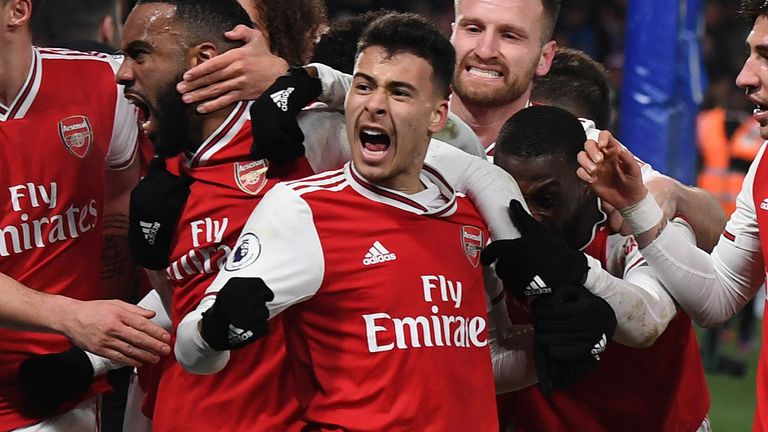 Gabriele Martinelli was the first signing Arsenal made last summer. He was very unknown and not many expected much from a kid who is just 18 years of age.
However, the youngster has taken his chances very well this season and is Arsenal's second top scorer in all competitions with 1o goals from the first 11 starts. Against Chelsea, he scored the first equalize with a darting run that started all the way from the edge of his own box.
The kid is already a star!
Same Old Mustafi
Arsenal wen down to ten men midway through the first-half after yet another Shkodran Mustafi error forced David Luiz into a challenge he should not have been making.
Mustafi has been a calamity since he joined Arsenal and the sooner the club gets rid of him the better for all parties involved.
Granit Xhaka Comes Of Age
With Luiz red-carded, Granit Xhaka was moved from midfield to center back and the Swiss did not put a foot wrong all night. He defended with purpose and passed the ball brilliantly from the back whenever he had the chance.
A few weeks ago, Arsenal fans were ready to let Xhaka leave but that performance will have many rethinking that decision.
Hector Bellerin is Brilliant
The Arsenal right-back had missed almost a year of football with a knee injury. His inclusion into the starting line up against Chelsea came as a surprise for many but it was a gamble that worked.
He defended his right-wing very well all night and capped off his performance with a fantastic goal late on in the match.