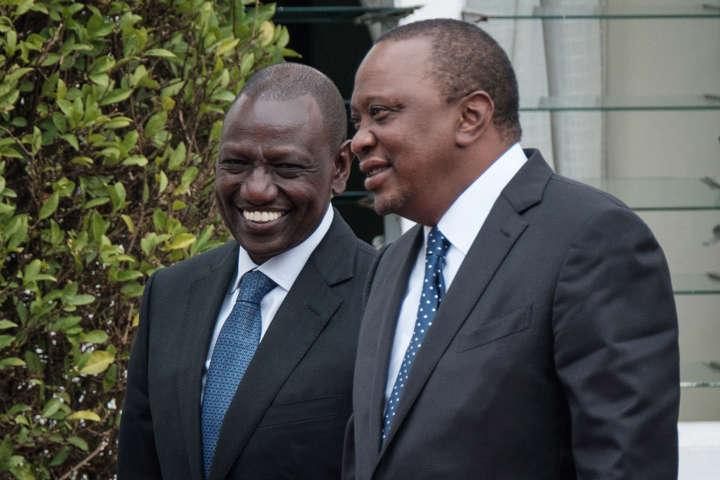 Kenyans have been brought to attention after a video of a Kikuyu singer performing in a night club went viral.
In the video, the Kikuyu artist sang a local praise song mentioning President Uhuru, then later the Deputy President William Ruto and the reaction and the reaction of the crowd was captured.
At the mention of Uhuru, the singer asks fans whether Uhuru is blessed and the crowd seems to disagree with him.
At the mention of the DP, the crowd cheers and agrees that he is indeed blessed. Although this happened in an entertainment set up, some politicized it claiming that the artist might have been paid to push Ruto's agenda.
The video was reportedly shot at millionaire club in Thika. It comes in the wake of the ongoing fallout between the President and DP which has sparked a huge political debate.
Check out some of the reaction
Daniel Freeman Amepewa kakitu kwa mfuko ndio aseme hivo. Mukamaka ta metha 😂😂😂
Kariuki Mwangi The club is called the Garage Mureithi Wa Lucy . It's in Thika town and I was there on 30th Dec
Kibara Tony Gachoki Gatheru ata watu wa mugithi wameamua wako tangatanga
Mwangi Wilson Hawa ni walevi. and you know walevi ever regret the following morning
Esmond Majanga Ujinga ni kufikiria shida za jubilee zitatuliwa na Ruto who is in the same Jubilee only when he becomes President!
David Nduati Hio club itafungwa na walipe tax double.
Millionaire Club Thika:You can't make this stuff up!This made me horny!🙈🤣💪👍🥃🍻🍺🙏👏

Posted by Mureithi Wa Lucy on Thursday, 16 January 2020