Nairobi Governor Mike Sonko has left a section of Kenyans online disgusted after he seemingly used vulgar language to insult his Facebook follower.
The controversial governor had on Friday uploaded on his Facebook page a video of the gubernatorial debate that aired on KTN News in the run-up to the August 8, 2017 general election, and suggested that his competitors Miguna Miguna, Peter Kenneth, and Evans Kidero spoke crisp English, but couldn't convince Nairobi residents to vote in their favour.
"Kizungu ilikuwa mingi mingiiiii! But kwa ground vitu zilikuwa different, na zitaendelea kuwa different [English was too much!!!! But on the ground things were different and they will continue to be different]," posted Sonko.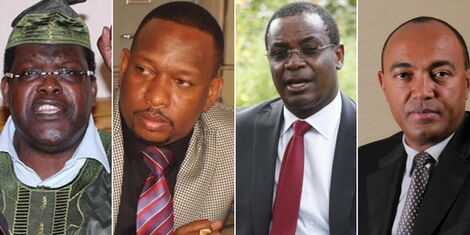 Implying that during the debate, they (Miguna Miguna, Peter Kenneth, and Evans Kidero) addressed Kenyans incorrect English, but when it came to receiving support from Nairobi voters, they flopped spectacularly, and that is how things will continue to be in the near and far future.

A user by the name Georgio Di Martino echoed Miguna's remarks who in the heated debate had accused Sonko of, among others, being a crook, a drug baron and incompetent.
"Miguna is very right, very right in deed. He talks everything that you are. [There is] no doubt about that. It is only that Kenyan voters love the theatrics and madness of their looter-leaders and oppressors like Uhuru and company……," Martino said in the comments section.
Sonko angrily hit back using seemingly vulgar language that elicited angry reactions from Kenyans.
"Georgio Di Martino, niliiba kuuuum ya mmmmmmmkoo…," Sonko responded in a comment that did not augur well with his followers.
In a quick rejoinder to the governor, Martino said, "U see,uve exposed who u are,so Miguna is very right and we know it….!?"
Another Facebook user, Gladys Korir urged Sonko to withdraw the comment. "Please withdraw that statement you are smarter than that," she said.
"Mamake amekujia wapi hapa? Respect is earned not given. Lazima mtu atusiwe na mamake ndio matusi ikuwe na weight ?It's better to what's in between your ears to think than to use what's between your legs [where has the mother come to you here? Respect is earned not given. A person must be brought by their mother so that the insults should be weight? It's better to what's in between your ears to think than to use what's between your legs.]," another user said.
However, Sonko defended his comment later claiming that he did not mention anyone's mother. "Jameni nimetaja mamake wapi. Nadhani haujui kiswahili sanifu. [Where have I mentioned her mother? I think you don't know standard swahili]," he said.