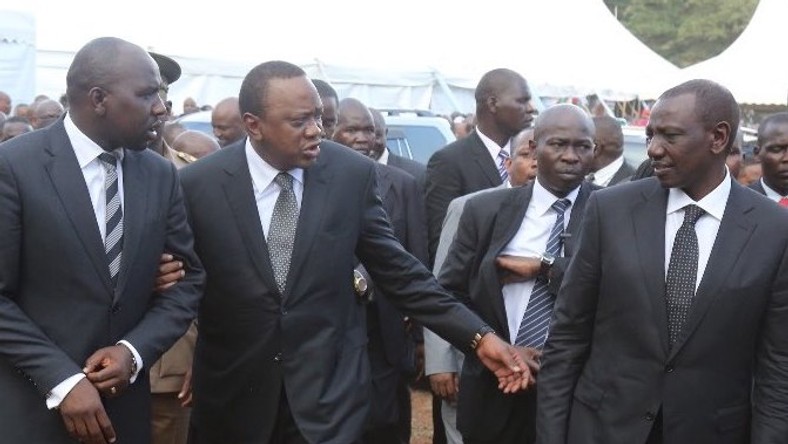 When Elgeyo Marakwet Senator Kipchumba Murkomen accused President Uhuru Kenyatta's elected committee of allegedly conspiring to cancel construction plans for Kimwarer dam, many expected that Deputy President William Ruto will publicly support him.
Murkomen had accused the committee behind Kimwarer dam cancellation of lacking ethnic and regional balance observing that they came from one particular community.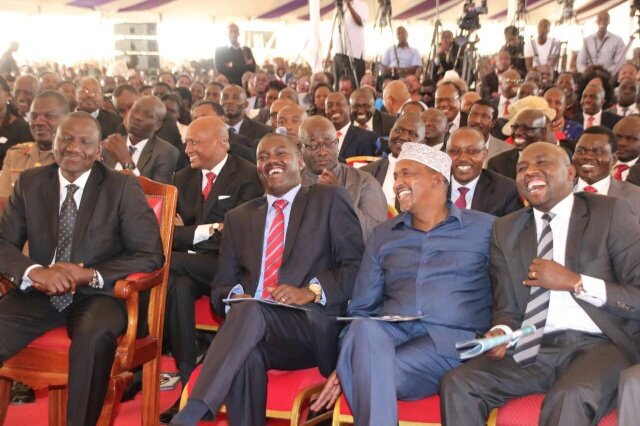 However, DP William Ruto who had in the past been so vocal against the alleged misappropriation of money meant for Arror and Kimwarer dams did not utter any word in support of the senator's claims.
Ruto's move to remain silent over the cancellation got the attention of Twitter users who took to their accounts to mock the second time senator of lacking support from his boss DP Ruto.
Many insinuated that the senator had been betrayed by Ruto and should remain quiet as well while others were of the opinion that distractors of William Ruto had sponsored the already trending tag #RutoSnubsMurkomen to cause confusion in Ruto's camp.
Here are the comments from Twitter;
https://twitter.com/Chepkut_William/status/1175650913240997889
People are trying to ignore the whole truth in Senate Majority leader Hon @kipmurkomen's statements kufurahisha president. Nyiambeni uko na nyinyi #RutoSnubsMurkomen pic.twitter.com/6YFWqYRMi2

— Mjengo Specialist 🔨 (@JoeKenya_) September 22, 2019
Do you people know where the DP RUTO and @kipmurkomen have come from.

There cannot be a drift between them. Tuende Canaan turudie bethlehem, tupige kelele hadi Arror near kibra, Ruto will be president and Murkomen by him. #RutoSnubsMurkomen pic.twitter.com/OlYh3sIaA0

— Kakamega_pundit🇰🇪 (@Kakamega_pundit) September 22, 2019
Interesting Times when Keyboard Warriors are Payed to destroy the bond Between Dp Ruto And Sen. Murkomen. The Bond between the Two is Unbreakable. Murkomen is loyal and a Man who keeps his words. Murkomen questioned the President decision as A Sen@WilliamsRuto #RutoSnubsMurkomen pic.twitter.com/7I1aUbajEf

— Captain Dominic (@CaptainDominicO) September 22, 2019
After the Kamwarer Dam cancelation, the only ninja resisting, ranting and trying to stop reggae is Murkomeno, even his boss, Tge DP has gone all mute🔇🙈#RutoSnubsMurkomen

— Kwale Gunner 🇰🇪 (@Sam_Lulli) September 22, 2019
Hahaha Televangelist postar Ng'ang'a taking this joke too far #KOTLoyals #RutoSnubsMurkomen pic.twitter.com/bNEzDI075R

— Abraham mutai (@kimutaiabraham5) September 22, 2019
Yaani Ksh 528 imefanya wengine wasiende kanisa so as to serve their political masters with a sponsored hashtag? Hivi ndivyo Ruto na Murkomen wanasalimiana wakiona your dynasty struggles against Hustlers #RutoSnubsMurkomen#KOTLoyals #MUFC pic.twitter.com/qZhRvxDKuR

— FELLOH MSAF! (@ThiangicuJnr) September 22, 2019
#KOTLoyals whoever sponsored #RutoSnubsMurkomen is a genius to have caught these loosely hanging scrotum in DP Ruto camp. It is unfortunate that @Chepkut_William
has resorted to underhand approach to the Rift Valley politics in order to get hustler's attention 🙄#mbelepamoja

— #KOTLoyals (@ItsKenRotich) September 22, 2019
#RutoSnubsMurkomen Murkomen should know that Ruto is a chameleon and at the same time a spider. He can change anytime he wants and can sting you at anytime….he will dance to the tune that sings well to his egotistical desires. #KOTLoyals

— Ochuoga (@thisisochuoga) September 22, 2019
The bond between Murkomen and Dp Ruto is strong thank that of the Dp with his boss. They are long time buddies. Ignore 👉 #RutoSnubsMurkomen pic.twitter.com/hc3gS5osbu

— THE PAUWORLD. || 🇰🇪. (@ThePauWorld) September 22, 2019
You do not fight the cancelation of the project by your boss na bado unataka the same boss a-endose your candidate uko Kibra, you've got to sacrifice one. Does that relate brother? 😁#RutoSnubsMurkomen https://t.co/IEhQVc7YLt

— Kwale Gunner 🇰🇪 (@Sam_Lulli) September 22, 2019
#RutoSnubsMurkomen Leo wamekosa what to say about @WilliamsRuto. Listen up, the hustler is unstoppable,…
sorry he can be stopped but not with these shallow minds called Kieleweke, surely how on earth do you expect Raila to stop him? 😂😂😂😂

— Teabag (@TheeActuary254) September 22, 2019