Even as the war against corruption gains momentum in Kenya, Narok Senator Ledama Olekina has warned the government against being selective on the war against corruption.
While commending the move by the DCI, Olekina who was elected on an ODM ticket said that as a country, Kenyans were also waiting for the arrests of Ruaraka land suspects adding that arrests should be justified and non-biased.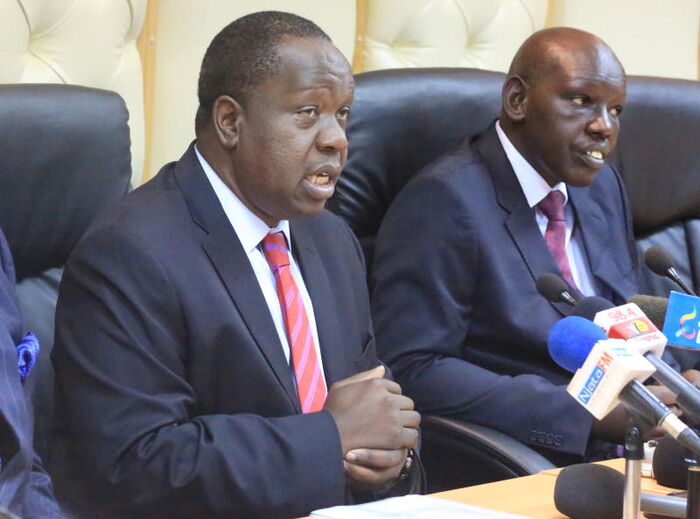 Ole kina was making reference to Interior Cabinet Secretary Fred Matiang'i and Education PS Belio Kipsang who both have been implicated after being mentioned as persons of interest in the report's recommendations made by Auditor General Edward Auko following their roles in the Ruaraka land debacle.
Ouko's report uncovered numerous irregularities in the multi-billion compensation payouts made to acquire the land that was, allegedly, already State-owned.
So does it mean we will also see arrest on Ruaraka Land Saga ? @DCI_Kenya @ODPP_KE ? @citizentvkenya @ntvkenya ? I sure do hope we are not going to be selective on the war against corruption!

— Sen. Ledama Olekina (@ledamalekina) July 22, 2019
Olekina who has for long been a long critic of Deputy President William Ruto's camp after falling out on Mau Forest conservation, over the last few months has toned down his attacks on Ruto with many predicting his likely move to join Ruto's camp in 2022.
His sentiments came at a time when his ODM party was advocating for arrests of all those who have been mentioned in corruption cases with Embakasi Eat MP Babu Owino calling for the arrest of Dr. William Ruto in specific.
This is Kenya!

— Sen. Ledama Olekina (@ledamalekina) July 22, 2019
"We stand for zero tolerance to corruption. Any stolen money meant for development for our people of this great nation must be returned" Posted ODM Party on Twitter.

Ledama's sentiments were largely supported by a good portion of online users who felt that the war against corruption was not genuine and only being targeted to those who were supporting Deputy President William Ruto.
That will only happen if the perpetrators join Tangatanga. For now they are innocent until politically incorrect.

— George Kamau (@Kamaug) July 22, 2019
Very good question.. All thieves should be arrested.

— Jim kitch langat (@JimKitchKE) July 22, 2019
Good question. Also afya house saga we need to see arrests.

— Brutonson (@DaSignior) July 22, 2019
@DCI_Kenya @ODPP_KE you said Ruaraka case was before court of law. The court made a determination, what are you still investigating? 😉

— makorithadius (@makorithadius) July 22, 2019
However, some advised the Senator to remain cool and wait since the government was still in the process of initiating arrests for any other government officials who had been mentioned in corruption cases.
One case at a time my dear senator. Kua mpole, Ruaraka will come. wacha kwanza wadeal na hawa squarely atleast isiwe walienda trip ya bure huko Italy na USA.

— Sa So (@Sa_so2017) July 22, 2019
Others downplayed the whole thing saying that corruption arrests in Kenya have never yielded any fruits. According to them, the suspects, as usual, will just be let free after some few days in police cells.
Do the arrests lead to anything? These people will walk free and life goes on.

— Emily Mogeni (@NyAKeRaRiOne1) July 22, 2019
Wewe stick to your line. Haji and his team wako sawa and don't need stories from politicians for now. Nitoraiguthania?

— Man njenga (@JMannjenga) July 22, 2019
I love you for honesty and truth corruption is corruption irrespective of who, where, how,.

— Mulwa Jr 🇰🇪 (@mulwa_joe) July 22, 2019