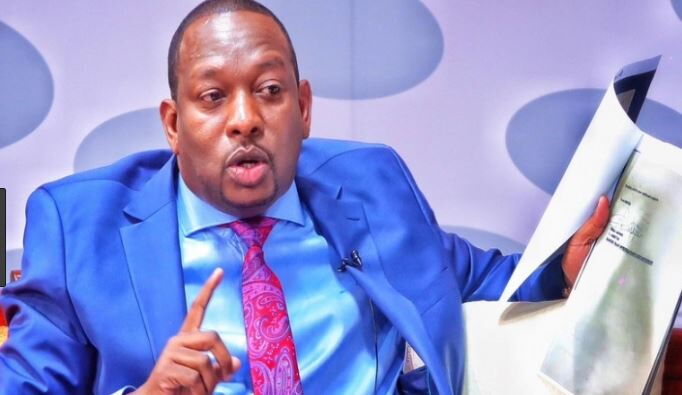 Nairobi governor Mike Sonko threatened to walk out of Citizen TV's JKLive, accusing Jeff Koinange of not giving himself a chance to explain himself.
Sonko came into the show to shed some light on her relationship with Esther Passaris, the Nairobi Women Rep, with whom they have had  an ongoing beef this week.
And the governor was armed with documents, WhatsApp messages and even Audio Clips that he wanted to play them all on Television. But Jeff, was not ready to allow him do all this on Live TV, especially when Passaris was not present.
Jeff told Sonko that the Producer of the show had threatened to cut the show and go on a commercial break. Sonko accused the producer of not wanting him to defend himself because she is a woman and was defending Passaris.
The governor accused Passaris of among other things, extorting him of Ksh 10 million during the time he was facing a petition over his election.
"The Nairobi County women representative wanted her per diem to be paid twice. I have not paid her and I will not pay" – Sonko #JKLive pic.twitter.com/HW4RiPqDe5

— Citizen TV Kenya (@citizentvkenya) June 5, 2019
He also produced documents which showed that the county government had issued Passaris with Business Class Air tickets to travel to New York, this is despite the same having been provided to her by the National Assembly.
Things got so thick in the first section of the show that Sonko looked like he was interviewing himself and did not want to be controlled by Jeff Koinange. He demanded to be respected as governor of Nairobi because according to him Citizen TV is also in his territory. He advised Jeff not to fear the lies being peddled by bloggers because even Peter Kenneth had more than one thousand bloggers.
Wueehh,, absolutely no one..

Mike Sonko : Even PK had 123456 bloggers but got 12 votes 😂😂😂
Omwami lost me there #JKLive

— Kelvin Ntara (@KingIce54) June 5, 2019
'Sonko si wa kupelekwa mbio! Acha kunitreat kama Passaris!' the governor said as the interview took a wrong turn. He warned Jeff not to ask him too many questions because he would walk out.
"Don't ask me another question before I answer the one you did…. Usinipeleke mbio vile hussein hupeleka Deputy President hapa"
Wau Sonko Wau!! .. 😂 😂 😂 😂 😂#JKLive #SexistJKl

— Felistar🌺 (@ndutafelistar) June 5, 2019
It is at this point that the show went for the first commercial break. The show was later ended prematurely due to what Jeff Koinange described as quality control.