Heavy rains have turned to be the enemy of Ugandans after severe flash floods left more than five people dead and displaced hundreds of others across parts of Uganda, with Bududa being the worst hit.
Red Cross officials on the ground said 5 people were killed after a massive landslide smashed through a tiny village located in the foothills of Mount Elgon, where fresh waves of rain threatened more danger for rescue workers trying to evacuate residents.
The preliminary report from the red cross team indicates that the number is likely to increase from the reported five when the landslide rolled down the slopes of Mount Elgon in eastern Uganda, wrecking homes and burying animals.
Rescue teams from the red cross were picking through the rubble and say that the rains started yesterday at 8:30 pm and have affected many sub-counties across the country.
There were multiple landslides reported within Bududa district but for now, the Red Cross team has concentrated in the worst-hit areas.
They reported 3 serious landslides that hit Buwaali Sub-County in the areas of – Bunamwamba North
– Bunamwamba Main
– Bunamwamba South
Landslides: OPM Deploys to Bududa#BududaLandslides https://t.co/rx5Ne3QzHy pic.twitter.com/Img1D1DD6a

— ChimpReports (@ChimpReports) June 5, 2019
The local Red Cross branch Volunteers together with the local police joined efforts and retrieved the bodies which are currently at Bukalasi Police post before they will be taken to the morgue.
15 Red Cross Volunteers were deployed to continue with search and Rescue efforts while 10 other volunteers were deployed to conduct a thorough assessment in the area.
Red Cross was sending relief supplies to the area, such as tarpaulins, blankets and water purification tablets.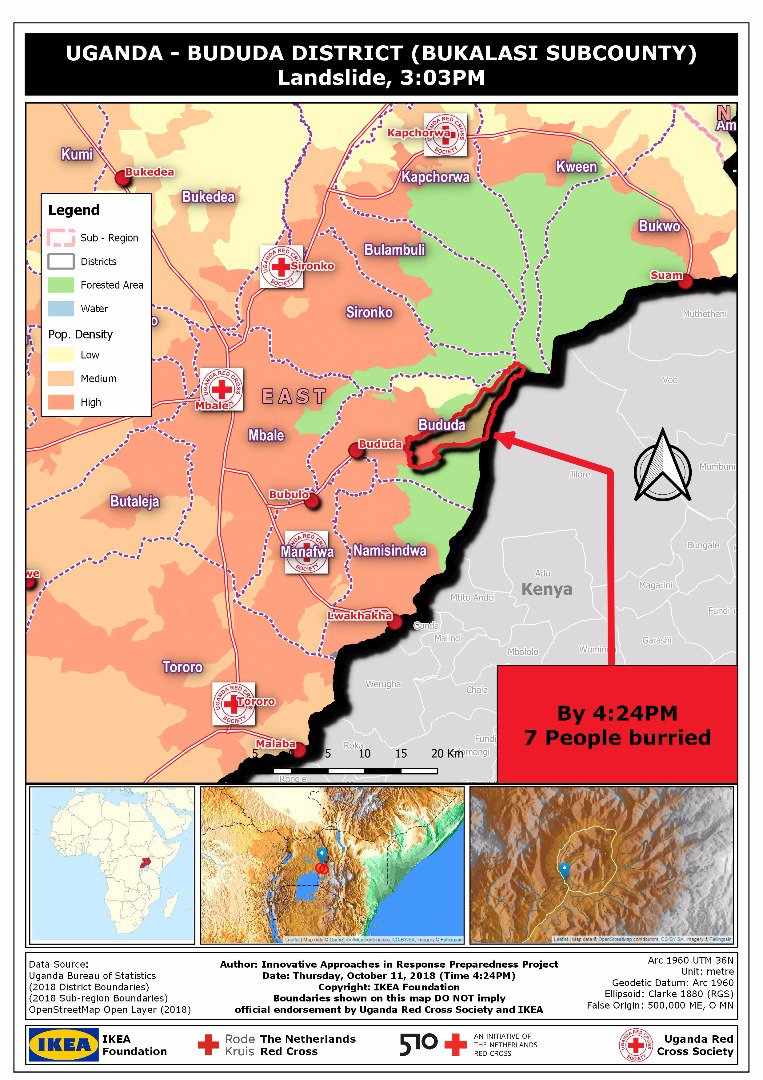 Bududa district is located in the foothills of Mount Elgon, which lies on the border between Uganda and Kenya and is a high-risk area for landslides.
At least 100 people were reported killed in a landslide in Bududa in March 2010 and in 2012 landslides destroyed three villages.
Government efforts to move vulnerable people to neighbouring districts have faced resistance from residents.
Video by @odoch_vincent streaming from #Bududa. Our search and rescue team working closely with the local @PoliceUg have retrieved 5 bodies & handed them to #Bukalasi police post. Efforts continue although the hills are steep & it is threatening to rain again. #Bududalandslides pic.twitter.com/Svje01uAew

— Uganda Red Cross Soc (@UgandaRedCross) June 5, 2019
Sad new s from #Bududalandslides where our 5 coffee farmers are suspected to have died over 150 houses & around 50 people missing after massive landslides hit Bududa again following #Tuesday & #Wednesday heavy downpour. pic.twitter.com/Fsr8PU6K8M

— Mount Elgon Coffee And Honey Co-Operative (@CoffeeHoneyCoop) June 5, 2019