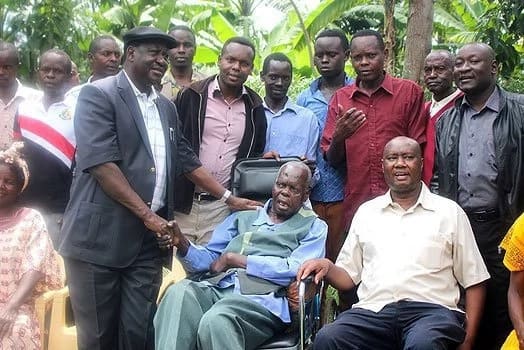 The former economic planning minister as well as former MP Amogoro Fredrick Oduya Oprong aged 83 has passed on. He took his last breath at the Kenyatta National Hospital in Nairobi, pronounced dead at around 11.20 pm Sunday . The news has been confirmed by his son Isaac Oprong.
FORMER ECONOMIC Planning assistant minister Fredrick Oduya Oprong dies at KNH in Nairobi aged 83, son Isaac Oprong confirms. pic.twitter.com/z2CYN5QQyQ

— NationBreakingNews (@NationBreaking) May 26, 2019
Oprong' was among politicians who joined Kenya's first Vice-President the late Jaramogi Oginga Odinga to press for the release of Mzee Jomo Kenyatta and others from detention before independence.
At the independence elections, he was elected MP for the then Busia North Constituency.As a pre-independence trade unionist, Oprong founded the Kenya Quarry and Mines Workers Union, hence Kenyatta appointed him assistant minister for Labour.
He was one of the most outspoken young radical members of Parliament in the early years of Kenya's independence.
An ally of Oginga, he was one of the founding members of Kenya Peoples Union (KPU) political party.But like most KPU members, Oprong found his way back to Kanu.
The state should give him a befitting send off, otherwise itakua madharau

— EDWIN OSIYEL (@eduosiy) May 26, 2019
The late was among a few victims around the globe who walk around with bullets lodged in their bodies.The former MP nearly lost his life in 1994 when he was shot by unknown gunmen in Nairobi.
After the 1994 shoot-out in a Nairobi street, doctors declared it risky to remove the foreign object from Oprong's head.Driving himself home one evening, Oprong was shot in Nairobi's Mariakani Estate by unknown assailants.
Rest in peace our hero. He survived with a bullet in his head for over 20 years.

— Jimmy omasete (@OmaseteJimmy) May 26, 2019
The former lawmaker who has two wives and 28 children remembered well events that took place in the years before the incident but had difficulty recalling recent events.
RIP

— Tumusiime Daniel (@tumusd) May 26, 2019
May his soul RIP!