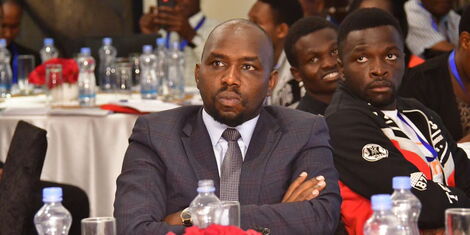 The highly publicised story of the Kakamega twins has caught the attention of Elgeyo senator Murkomen Kipchumba.
He has stated that he feels the story of Mevies, Melon and Sharon has been mismanaged by the press and the girls and family have not been given the protection they deserve.
For the first time in a long time, Kenyans seem to agree with Murkomen.
One user mentioned that the whole dramatic situation is becoming too insensitive and that the girls should be left alone to cope with this, prepare for exams and be ready for DNA results while undergoing counselling.
Another stated that the media is making the other sibling Sharon look desperate defending that DNA issues re sensitive and not subject to scrutiny.
On its Twitter page, DCI stated it would probe the circumstances that led to the present status, whereby the lookalike girls only got to know about each other 19 years after they were born.
"The attention of the DCI has been drawn to the highly publicized story of the Kakamega twin puzzle. We believe forensic investigation will establish if any criminal act was committed or any mitigating circumstances that may have led to the present status," read the tweet.

The two, Sharon Mathias and Melon Lutenyo, who were reunited at Furfural village, were born at the Kakamega Provincial General Hospital, which is currently called Kakamega County Referral Hospital.
Melon was raised in Likuyani, Kakamega County while Sharon was raised by a different woman in Kangemi, Nairobi.
In a puzzling twist of fate, both girls are set to sit for their Kenya Certificate of Secondary Education this year, both are studying in Kakamega, both don't eat omena and matumbo (tripe), have similar interests, the same academic performance among other similarities.
Families of both Melon and Sharon are eagerly waiting for the truth.