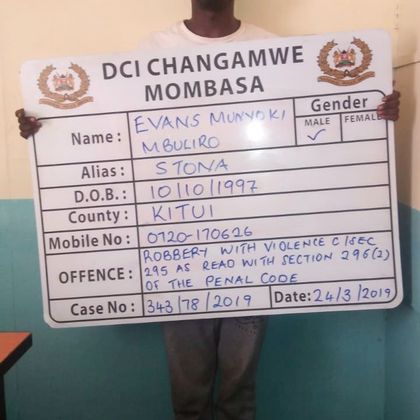 Director of Criminal Investigations(DCI) detectives have arrested
five suspects for robbing a M-Pesa shop lady in Aldina and Makande area, Mombasa at gunpoint. Two suspects are from Kitui, one from Mombasa, Busia and Siaya.
"Detectives based in Mombasa have today arrested 5 suspects in connection with a robbery in Aldina & Makande area. The suspects-Brighton Naiya Manyala, Mohamed Hassan, Chris Odhiambo Omondi, Evans Munyoki Mburiro & Mutonyi Nzamba-were captured on camera robbing a lady at gunpoint," Noted DCI in twitter.
The suspects were arrested on Sunday over a CCTV footage that went viral on Saturday.
On the CCTV video, they robbed a lady on a Mpesa shop and fled away with her handbag using a motorbike.
The lady is a Mpesa agent who was closing her job only to meet the suspects armed with guns.
"Two motorcycles used during the robbery have been confiscated. #DCI Detectives at the coastal town are pursuing other suspects connected with this & other robberies." added the tweet from DCI.
The suspects if arraigned in court and found guilty of robbery with violence may be charged to life imprisonment.