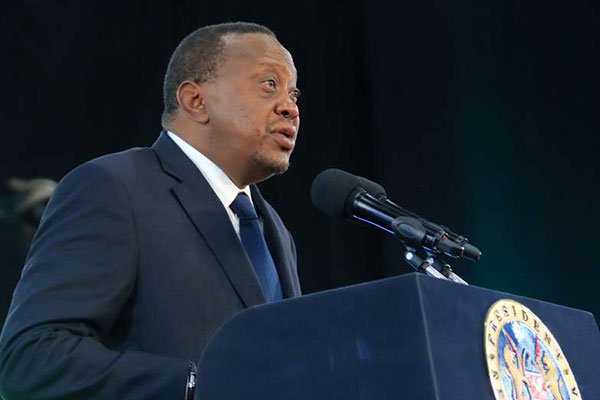 After a tough-speaking Kenyatta dismissed claims by Kapsaret lawmaker Oscar Sudi linking him to graft and daring those with evidence to support the claims to report to the Directorate of Criminal Investigations (DCI).
President Kenyatta warns against politicising the war on graft, tells those claiming he is also involved in the vice to report to DCI. #DevCon2019 pic.twitter.com/jj9e7EtmGf— Citizen TV Kenya (@citizentvkenya) March 5, 2019
The lawmaker in a quick re-rejoinder took to social media to decline the invitation to file evidence against the President at DCI saying the agency was irredeemably compromised.
"Well,well, well said Mr. President, I agree with you that we must not address these issues in funerals, weddings or other public functions. But unfortunately, Uhuru is DCI and DCI is Uhuru," he wrote in a brief online statement.
In his remarks at the Sixth Devolution Conference in Kirinyaga on Tuesday, Kenyatta said the war on corruption was unstoppable emphasizing that no individual or community was being targeted.
"My government has taken bold steps to create a stable political environment against which our goodwill and support for good governance can flourish," he said.
He urged all Kenyans to support agencies tasked with leading the charge against corruption and desist from erecting obstacles that will impede the delivery of their mandates.
The Head of State said those accused of corruption are entitled to a fair hearing and will be given a chance to defend themselves in court.
Kenyatta warned politicians to stop hindering agencies prosecuting corruption cases.
Kenyatta's remarks come in the midst of a heated political debate on ongoing investigations into the alleged misappropriation of funds allocated for the construction of two dams in Elgeyo Marakwet County.
Oscar Sudi stopped the Lifestyle Audit!
Oscar Sudi was the main agenda at the devolution conference! Oscar sudi silence hassan Joho
Oscar Sudi can stop reggae!
He will soon win Oscars for real life! @BenjiNdolo si Uyu Oscar n waya ya stima banah.— @itsfrancis (@AjjyJr) March 5, 2019