Veteran Catholic Archbishop Ndingi Mwana'a Nzeki's death on Monday night has caused mourning from faithful and Kenyans at large.
The man of God has died aged 88 years old after a long illness.
His death was made public by Cardinal John Njue in a statement on Tuesday, March 31.
"A sombre morning as His Eminence John Cardinal Njue has announced the passing on of his Grace Archbishop Emeritus Raphael Ndingi Mwana a'Nzeki. Let us pray for the repose of his soul," a statement by the Archdiocese of Nairobi read.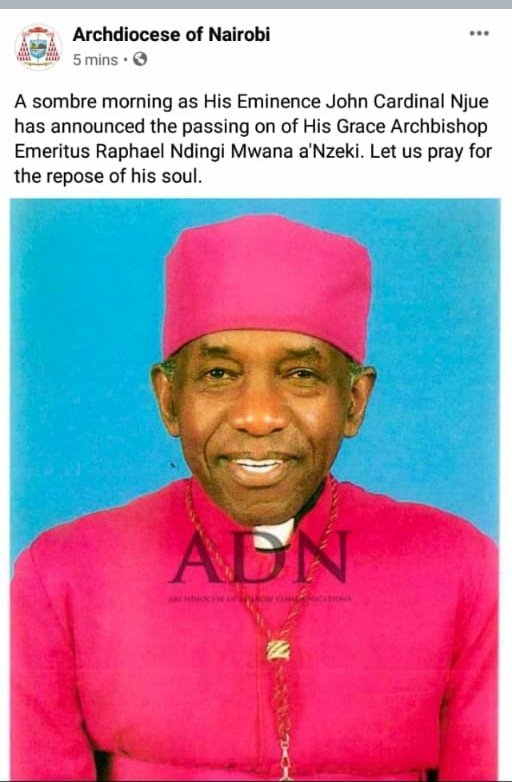 Born on December 25, 1931, in Mwala Machakos, Kenya, Archbishop Ndingi Mwana a'Nzeki lived a long fruitful life and is remembered for the legacy he left.
Kenyans have flooded condolences messages on social media following his passing.
Retired Catholic Archbishop Ndingi Mwana'a Nzeki dies aged 88, John Cardinal Njue says.#RIPNdingi pic.twitter.com/VzqybS34rC

— Robin Njogu (@robinnjogu) March 31, 2020
Rest with the Angels Archbishop emeritus Mwana A'Nzeki.

Eternal rest grant to him, O Lord; and let light perpetual shine upon him. May his soul, and the souls of all the faithful departed, through the mercy of God, rest in peace. pic.twitter.com/bXClO5t7PJ

— The_Lushi™️ (@Sylvia_Esther_G) March 31, 2020
Rest in peace Ndingi Mwana 'a Nzeki pic.twitter.com/TSRFHTys6S

— Wainaina Shakes 🇰🇪 (@Wainaina_shakes) March 31, 2020
Rest in peace Archbishop Emeritus Raphael Ndingi Mwana a'Nzeki pic.twitter.com/jfZMVkqrSe

— Theo (@Theo_mwangi) March 31, 2020
Great man with a legacy. May he Rest In Peace https://t.co/XoxFFA2GXX

— Sarah Mwangi (@thesarahmwangi) March 31, 2020
Rest in peace Man of God.Always in our heart

— Tanzagiza_ (@Tanzagiza_) March 31, 2020
Long serving catholic priest dies. Rest in Peace His Grace Archbishop Emeritus Raphael Ndingi Mwana a'Nzeki. May his soul rest in Peace. pic.twitter.com/kcpwjGiKbj

— Jack Maℹ (@Not_JackMa) March 31, 2020
Condolences to the family, friends and the entire congregation lead by the Retired Archbishop Raphael S. Ndingi Mwana'a Nzeki.
May he rest in peace.#RIPMwanaAnzeki pic.twitter.com/3B29mSovSL

— Arnoldi 2.0 (@arnoldireal) March 31, 2020
His Grace Archbishop Emeritus Raphael Ndingi Mwana a'Nzeki has passed on.
Rest In Peace. pic.twitter.com/7oZnxSD4H4

— Njimû Wa- Kaiya (@NjimuKaiya) March 31, 2020
I have learned in shock ARCHBISHOP Emeritus Raphael Ndingi Mwana a'Nzeki dies at 88, His Eminence John Cardinal Njue confirms. Rest in peace, we have lost our comforter pic.twitter.com/4uPILIT71J

— Nick Ruto 📧#KENYAN (@NickSruto) March 31, 2020
His Eminence John Cardinal Njue has announced the passing on of His Grace Archbishop Emeritus Raphael Ndingi Mwana a'Nzeki. #RIP

— Dennis Itumbi, HSC (@OleItumbi) March 31, 2020