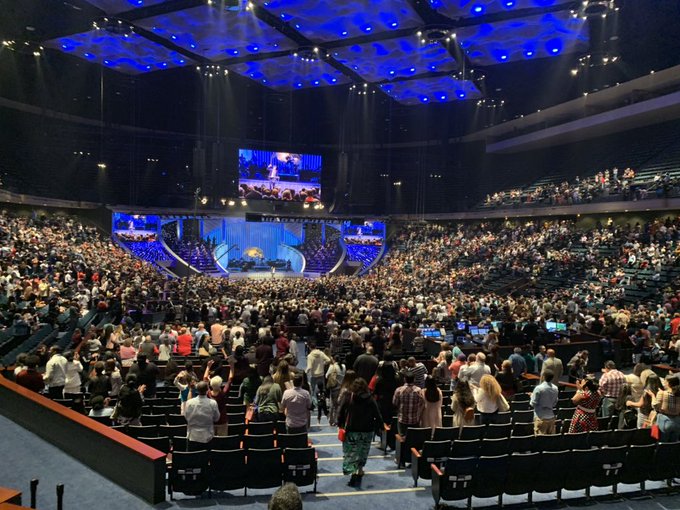 Kenyan churches have been frequently involved in scandals such that people are finding it hard to trust how they operate. From pastor Ng'ang'a's to Kiunas the story continues to repeat itself.
Renown journalist Larry Madowo innocently shared a photo of Joel Osteen's megachurch to show to the world how big it is.
He was shocked to be in a church that is as big as a stadium. As much as Osteen's church is a stadium transformed, Kenyans couldn't keep calm as they went ahead to compare it with Kenyan churches.

Jay En Mutoko In my country Kenya, when I was growing up as a little boy on Sundays during the church service, I used to hear my pastor asking for offerings for building a mega church! Many years ago until now, they are still singing the same song every on every service & I realised issa scam! 🚶🚶🚶
Hillary Angosi Inyangala Kenya hakuwezi kua na kama hiyo
Morris-Jeremy Wachira Wanjohi Hiyo crowd na ii corona virus…..utaipata…..hapo ndio uatajua maombi ni ngumzo tu
Osoro Edwin You are used to Nganga's vibanda bro
Carol Caxton Pastor Kan kaka said other churches are viosks
Si yake ni booth ya simu akiangalia hii 😂
Sadaka wao hupeleka aje pale mbele?

— Kirigwi, The Rainmaker. (@kirigwi) March 1, 2020
Kenya church is a business with CITAM making 1.3b where some of their followers can;t afford 3 meals in a day

— Governor The Dreamer (@Governor_254) March 1, 2020
Hio ni kidogo@ApostleManyuruKE anaundaa ya 100k seats. #kenyanikwetu#JTMFIRE

— Kanga Willy (@willy_kanga) March 2, 2020
How much do the tickets cost? Gate fee?
Kenya pastor akaunda kama hii. Sadaka nikwa gate

— Kelvinwanjiku (@Quavoace) March 1, 2020
Kenyanys see this and they be like….. Si huyu jamaa ni mdosi, iyo sadaka jooh!!😂😂

— Stray dog owner. (@iandunkan26) March 2, 2020
Pastor nganga has a diff idea though, a shopping mall

— KihongeYuleActivist (@Kihonge_1) March 1, 2020
@LarryMadowo huko kuna paybill kama Kenya watu kupanda mbegu?

— James Kenyatta (@kenyatta_james) March 2, 2020