Citizen TV Mother In Law's actress Elizabeth Wanjiru alias Charity Mwamba recently open up on losing her kids after she divorced her Ugandan husband Shem Bageine.
Charity, revealed that the two were blessed with three kids (Two girls and one boy), however, due to constant disagreement, they parted ways and her ex-hubby took away all her kids.
Shosh also pointed out that their marriage was affected by Uganda politics.
"I was married by a Ugandan na wakati wa dictator ya Iddi Amin tulikuwa affected na Ugandan politics tena hatukusikizana na some of the things so tuka part ways so wakati Museveni aliingia uwonngozini akaitwa huko asaidiane and a very serious thing happened alibeba watoto wote mimi naishi peke nyangu," she narrated.
The two were married for 13 years. Shem Bageine is a Ugandan Minister of State for East African Affairs.
Apart from taking all the kids with him, Shem also wanted to take over a house, they co-own in Loresho.
Four years ago, Charity, emerged victorious after she demanded a share of their matrimonial property ownership following a three-decade court battle.
'Shosh' was married to Bageine for 13 years. During their marriage, they jointly purchased a house in Loresho which Bageine, a Ugandan national, registered in his name.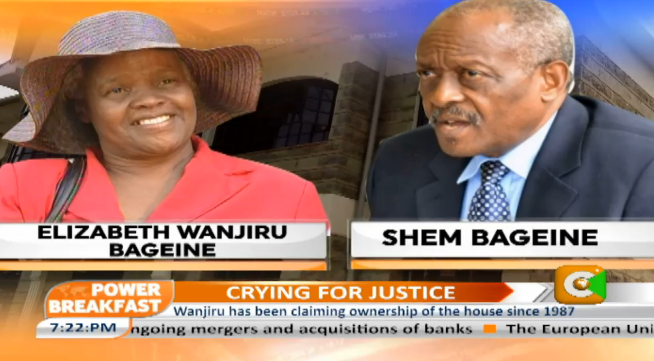 In her argument,'shosh' said that the man walked out of their marriage in 1981.
He went back to his native Uganda in 1987 to build his career after his Kenyan citizenship was revoked by the government.
Bageine rose through the ranks from an MP to assistant minister to his current position as Minister of State for East African Affairs.