Nairobi streets have proven to be unsafe over the past few months.
One could just be going about their duties especially for the ladies and things will take a turn for the worst. Ladies have been complaining of numerous harassment cases and it's now annoying.
From supermarket attendants to security guards, men have been recorded abusing women and they have left many of us questioning a lot of things.
Truth be told, Kenyan ladies are scared and a majority of them have joined some classes in a bid to guard themselves whenever they are faced with such disturbing situations.
Some ladies now are now carrying self-defence tools like pepper sprays, because they never know when the attacker will be unleashing his colours.
In a bid to co-exist peacefully, ladies have taken different measures because you never know who your attacker will be right? Bills have to be paid and men are here to stay and that why ladies are protecting themselves.
Recently, one lady had an unpleasant experience with a makanga and she shared ordeal cautioning other ladies.
In what seemed a walk in the busy streets of tao, changed her mood for her day completely. Find her confession below:
I'm walking through a choche heading to work then this guy starts catcalling me, 'Auntie angalia haraka, haraka.' So I look and behold, he is showing me his d**k. I check his face now and ask if he is normal.
Weh angalia tu then he grabs my hand and tries to get me to touch it.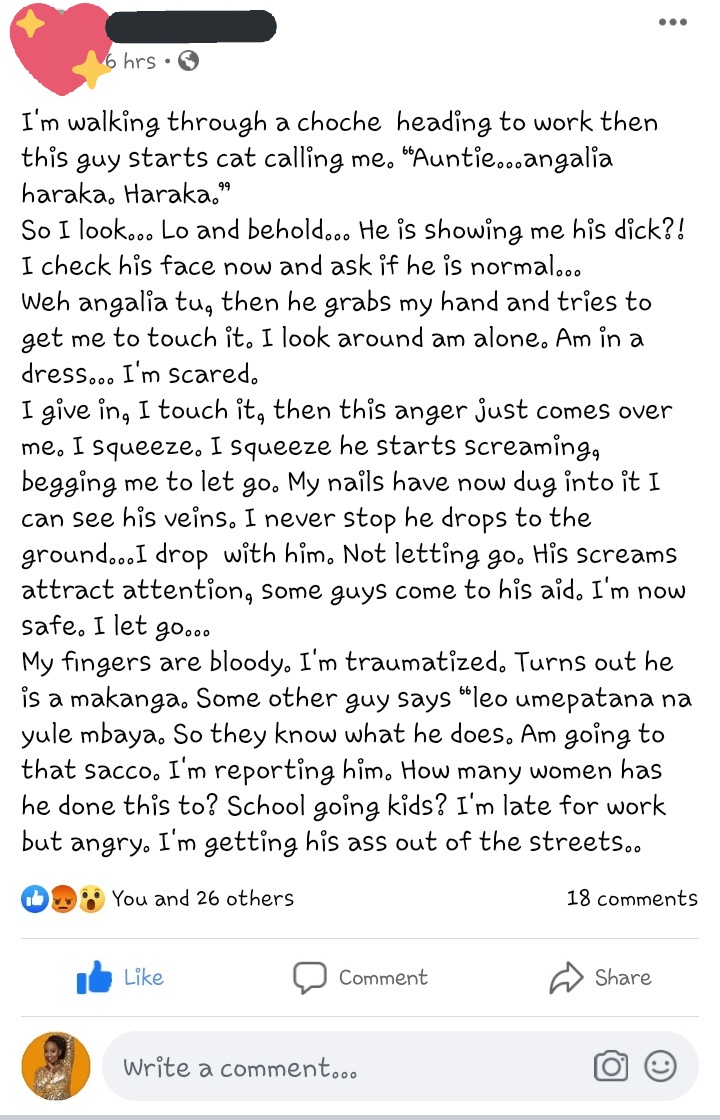 Upon sharing her predicament here is what some Kenyans thought.
Tower..of_Babel 
as a woman…always stay as far as you can from sexual temptation/appetite with strangers or even your closest male friends…..she was so lucky….what if the man screamed of attempted rape.
@okudo11
she was still wrong to hold his genitals….. it's all the same….just ignore such people.
@AnnitahRaey Aki mimi I can't deal… What the hell is this… What the fuck is this… I swear to God this type of men deserve worse.