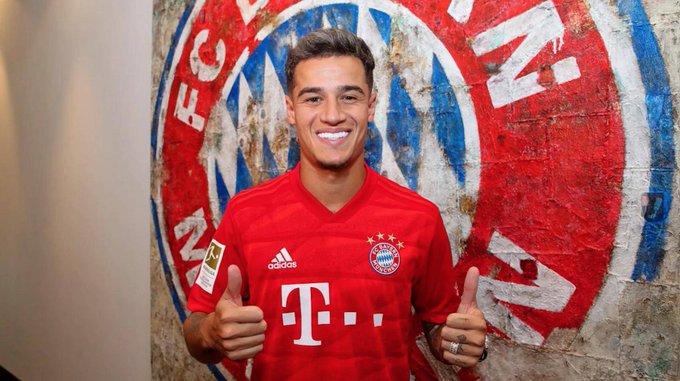 Barcelona fans bewail after their club gets into an agreement with Bayern Munich over their star Philippe Coutinho, who has been sent to the German club on loan.
According to reports, the Brazilian has been signed by the Munich-based club on a season-long loan deal which includes an option to buy.
Barcelona says the German side will pay 8.5m euros (£7.78m) to take the Brazilian midfielder on loan while the option to buy stands at 120m euros (£109.84m).
This news has not been received well by Barca fans, who now condemn the club for releasing good players to their rivals.
☑ [FCB] | Agreement with Bayern Munich for Philippe Coutinho's loan.

🔶 Barcelona and Bayern Munich have reached an agreement for the loan of Philippe Coutinho to the German club for the 2019/20 season. pic.twitter.com/7Cho7ECOLU

— BarçaTimes (@BarcaTimes) August 19, 2019
Barcelona have been selling most of their players to Bayern but u barely notice their players making moves except outcasts

— Jackson Addo Majestical (@JackiMajestical) August 19, 2019
Terrible mistake.. Valverde should have been loaned instead

— H7 (@7Haranmik) August 19, 2019
Huge mistake 😒😒

— Benza Senwamadi (@Benza_De_Kidd) August 19, 2019
Yeah, he's goinf to perform for sure, like Paco. Cause Bayern actually need a player like him.

— Leo (@GOATalona) August 19, 2019
The guy is clearly happy now see as he dey smile no need to play 442 rigid system anymore always defending he's happy he got to a team who play good football and will be attacking

— Trilljunior (@Trilljunior1) August 19, 2019
Why not loan our stupid and tactless coach instead

— Pharmo Lee (@holuwafemi_002) August 19, 2019
Valverde has blood on his hands. Imagine what Coutinho would do if he played under a coach like Pep, Klopp, Tuchel, Pochettino… No player has improved under Valverde. If not that Messi is Messi, he would have dropped form. Valverde is cancer to Barca. Why can't Bartomeu see it?

— Crakitic (@Crakitiic) August 19, 2019
Fuck this board and that manager who destroyed his career….it was a dream move for him which became nightmare because of the manager….hope he achieves more at Bayern

— Muhammad Arsalan (@MuhdArsalan10) August 19, 2019
*Give him away for free, in fact we'll pay them to keep him

— SD2402 (@SD24021) August 19, 2019
or Bayer with Coutinho against us in semis 🤭

— Liverpool FC Supporters Perú (@PeruvianScouser) August 19, 2019
He is a cam/creative midfielder and not a winger. Its like playing a cb player as rb and asking him to press and cross. 85% of footballers will surely fail if u change their position which they played for 10 years.

— nezam ahmed (@nezamahmed6) August 19, 2019
Coutinho joined the Blaugrana from Liverpool in a £142m deal in January 2018. Despite scoring 21 goals in 76 appearances for the Spanish giants, he fell short of expectations and had been linked with several clubs this summer.
It was believed that he would be part of Barcelona's bid to bring back Neymar from Paris Saint-Germain, with the Spanish club reportedly willing to offer 100m euros (£92.4m) plus the midfielder for the PSG forward.