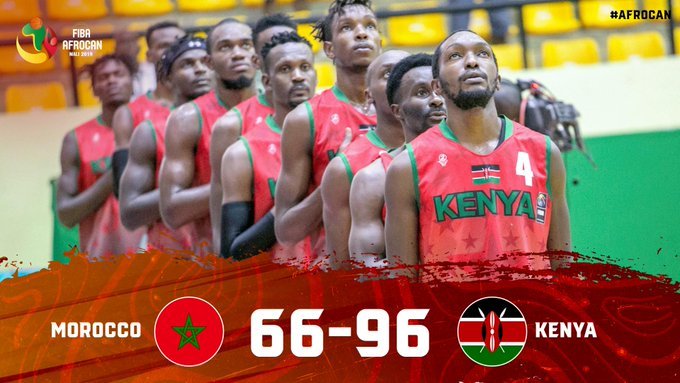 The Kenyan National basketball team Kenya Morans shocked the continent with a comfortable victory over Morocco to reach the finals of the FIBA Afrocan finals. The team cruised to a 96-66 win over the North Africans to book the first appearance in the finals.
🇰🇪 2nd OT win for Kenya!! The #Morans shock Tunisia to advance to the Semi-Finals! 🙌 #AfroCan

📊 https://t.co/1EJ33jxPH2 pic.twitter.com/AcCNkWujFp

— FIBA (@FIBA) July 24, 2019
The team will now face off with the Democratic Republic of Congo in the final. As Always Kenyans back at home were quick to congratulate the history makers through their various Social Media accounts.
Final: #Kenya 🇰🇪 96-66 🇲🇦#Morocco#Morans are through to the final!

#AFROCAN2019 #AfroCan pic.twitter.com/RwC6koUTSZ

— Mwawana Muema (@MwawanaMuema) July 25, 2019
THE MORANS ARE IN THE FINAL!!

FT Kenya 96 Morocco 66.

WELL DONE!!! #TheScoreKE pic.twitter.com/G3gpZzG6VN

— Carol Radull (@CarolRadull) July 25, 2019
Even the football accounts took notice..
FULL TIME | Kenya 96 – 66 Morocco

THE MORANS ARE IN THE FINAL#Kenya #Morans #AfroCan #afrocan2019 #JazaStadi pic.twitter.com/dADR5mjARo

— Jaza Stadi (@jaza_stadi) July 25, 2019
The Kenyan point guard Eric Mutoro had 5/7 3 pointers in the first quarter..
#AFROCAN2019 #Morans #kolasinac #NewsGang #WillisRabura
Ozil

This guy is Kenya's Steph Curry!!! Maybe Kenya's Kevin Durant 😳😳😳😲😲😲🤭🤭

Sure 3 pointers

Congratulations are in order to Team Kenya for the win against Morroco !#lingerieday pic.twitter.com/wJojEM9T4l

— Kimberly Wanjiru (@ShiruKimberly) July 25, 2019
Majestic..
Tied game. 15 seconds on the clock. Kenya ball.

Ladies and gentlemen… Tyler Ongwae.#KenyaMorans #BuzzerBeater pic.twitter.com/RuDqLhxyzC

— Pewa Odds (@pewaodds) July 25, 2019
Congratulations team Kenya, you made us proud. #Morans

— Allan Otumo Jnr (@otumo_jnr) July 26, 2019
The Morans achievements were made to look even better when compared to the Men's football team Harambee Stars who could not even make it out of their group in the recently concluded Africa Cup Of Nation Tournament.
Africa Championships

Malkia Strikers – Finals

Kenya Morans – Finals

Harambee Stars – Group Stages

Guess who had a budget of Ksh. 244m to prepare and still embarrassed themselves.

— aleckie ronald (@SirAlexas) July 26, 2019
The final will be played on Saturday. We wish our boys the best of luck. IT'S COMING HOME!