We all know that skin lightening  has its huge list of disadvantages, it has not deterred the growing number of people who engage in this practice.
It is a norm to see a lot of people go from a darker shade of skin tone to a much lighter one, however, it is not common to see people try to go back to their original complexion.
Few days back, Kenyan socialite cum entrepreneur, Vera Sidika, left many social media users stunned after she shared a photo of her new dark self, revealing to her followers that she has gone back to her original complexion.
Apparently, it seems like the socialite fooled all her fans that she has gone back to her  original complexion only to release a new video song dubbed 'mimi' after trending.
Taking to her instagram account, queen Vee notified her followers about her new song.
"For the full video subscribe to my YouTube channel"she wrote.
In her song, she addressed the issue of skin color where her message is pretty much that everyone is pretty in their own way regardless of the skin tone.
Few days ago Sidika received both hate and love after she  posted a photo of her bleached self on Instagram,which left many people stunned at her transformation back into her natural skin colour.
Some accused her of editing her photo to look black while others laughed at her for finally admitting she's been bleaching and not naturally light-skinned.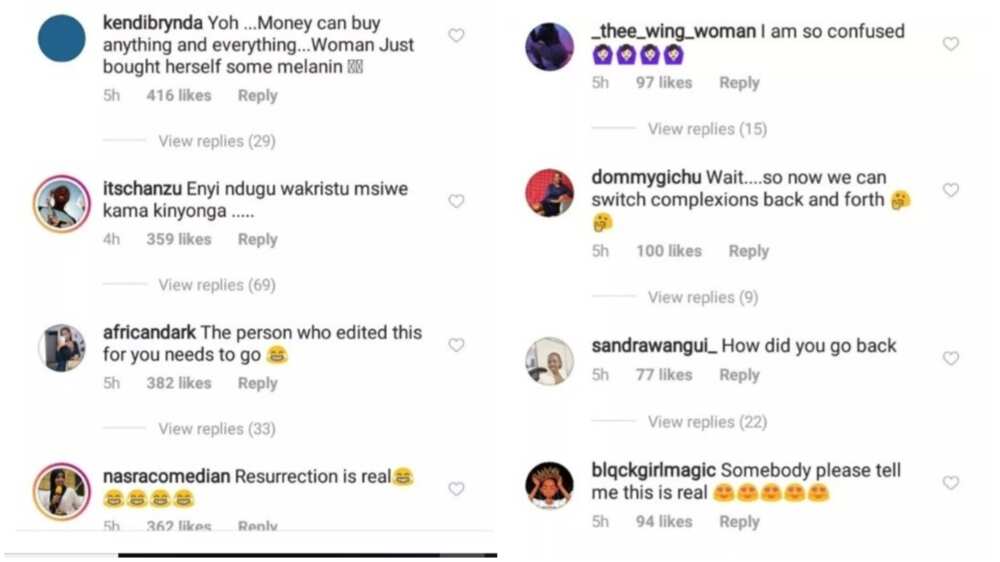 Sidika is not new in the music game, it is remembered that some days back Queen Vee released a song after she had a messy break up with her ex- musician boyfriend Otile Brown but it flopped, perhaps she faked her transformation in order to sell her music.
This is the new trick many artistes use to get more views.
Here is what her instagram followers had to say about her new song;
Kate  actress…..Nice move 👏🏽👏🏽👏🏽👏🏽 I actually really like it @queenveebosset
Mpenda Shauri…..Mimi ni Yule yule cheupe cheusi kwa mungu sote tupo sawa😘😘😘😘nimeipenda bure
tie money….I guess it's doing anything for clout😂😂😂 you could have used this chance to uplift dark skinned girls although I get the message that we are not to be judged by the colour of our skin come on you didn't have to tan yourself dark the message would have gone across without exploiting dark skin anyway nice song
Maureen chew….She's still mweupe… Its just a spray tan she has on… Nilijua she couldn't go back to melanin.. Yess!!! 😍😍😍am glad you are back… Atleast I was right🙌🙌🙌🙌
Guy the silver…..no difference ya wewe na Kim k