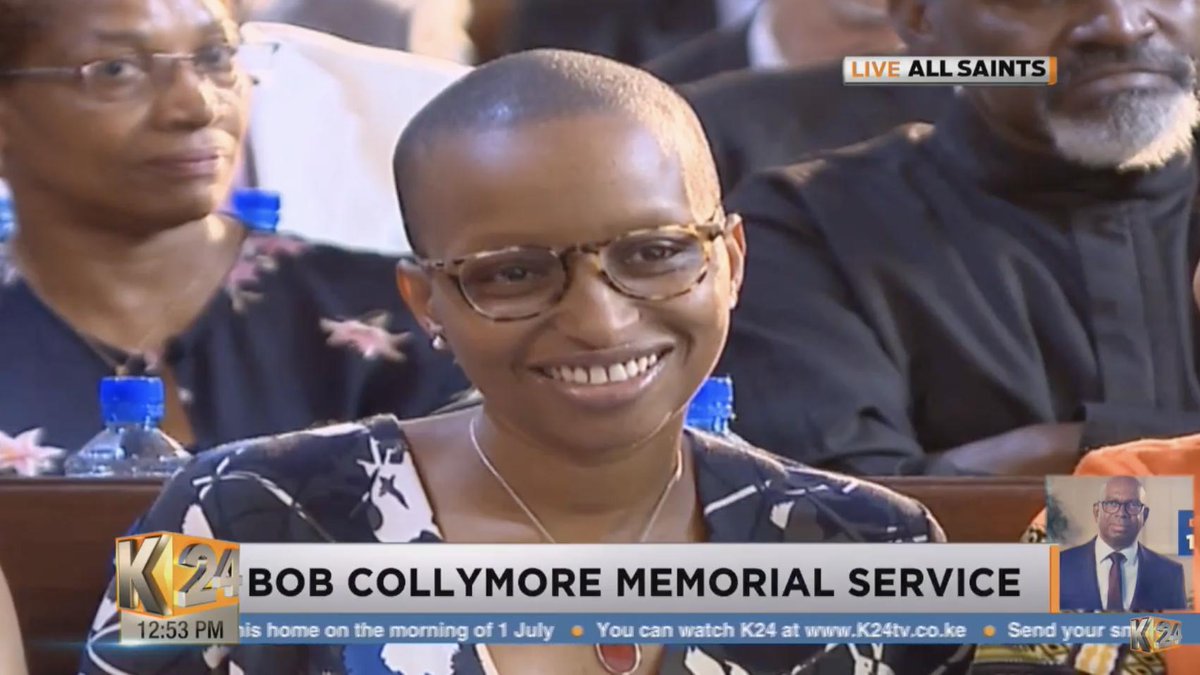 The late Safaricom Ceo Bob Collymore's memorial service held on Thursday 4th July at All Saints Cathedral in Nairobi moved the country to conflicting tears of joy and sadness in celebration of the man and leader that Bob was.
The moving tributes made by family and friends were the highlight of the service as the words and memories shared shone a light into who he was. His wife Wambui Collymore left such an impact with her kind and loving words.
She read a moving speech by the late Bob Collymore, that he read to a group of children back in 2013. In his words:
Never apologise for what you have, never let people decide how you should feel about yourself, BE YOURSELF! 'Never be ashamed of who you are, never apologise, stand up for what you believe in, be considerate…because a person's a person no matter how small'.
To bid her lover and best friend goodbye, she had this to say:
'One must leave when the applause is loudest. Bob left when the applause was loudest'
She paid her respects by playing a piece of music which was his request and among one of his final wishes.
Ordinarily, when we pay respects to those we love, we give one minute of silence, Bob has chosen to give us all 8 minutes of music. He chose the piece, Adagio for Strings by Samuel Barber for his memorial and as a gift to you all.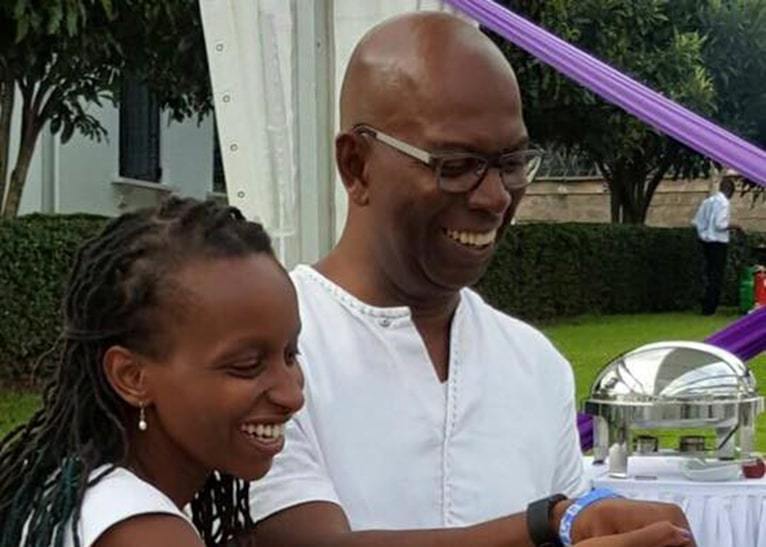 Bob Collymore's widow Wambui Kamiru had previously requested Kenyans to wear bright colors during Thursday's memorial service of the former Safaricom chief executive as it is a celebration of life, not a mourning service. She made the request through a text message that was read on air during the Jeff Koinange's JK Live show on Citizen TV on Wednesday night.
The beauty didn't mince her words as she showed up to the service adorned in a colorful blue and white dress as her bald head made the statement of the century.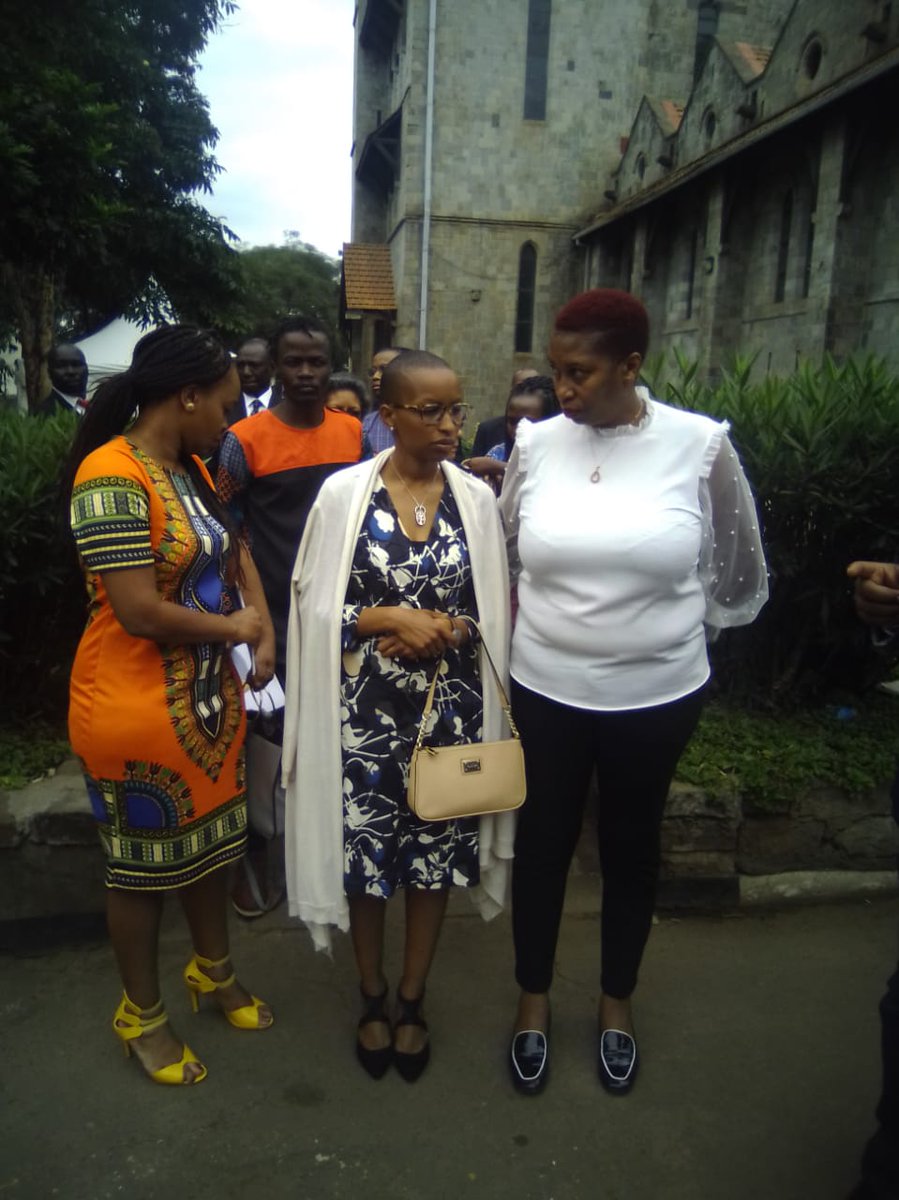 She probably shaved her hair in support of Bob who died from his brave fight against cancer which naturally makes one shed their hair. True love. One of Bob's closest friends political aspirant Peter Kenneth revealed a touching story about the bald head that Bob carried and that Wambui now proudly carries.
Bob's friends gave him the name 'Kihara' and when they went to visit him next, his wife (Wambui Collymore) had put up a sign with the name 'Kihara' on it.
Peter Kenneth also reveals some bits of his personal relationship with Bob. He opened up on the fact that it was Bob who taught him how to play the saxophone and they hoped to do a collabo someday.
In another story of their friendship, Bob went fitting for a new suit and took the boys club) to meet his "great" tailor, a Ghanaian named Boateng'. The price was way beyond their budget so they politely refused. Shortly after, Bob told them he was very disappointed they refused to get the suits. The morning after that, Bob sent mheshimiwa mpesa of Ksh. 1,000 as a start-up fund to buy a car.
His stories opened Kenyans up to the other side of Bob, where his friends and music were as important as life itself.
Peter Kenneth recounts memories of his friendship with Bob #RIPBobCollymore pic.twitter.com/D7uK4p9Vqu

— Citizen TV Kenya (@citizentvkenya) July 4, 2019
This is "Wambui Collymore" living a simple life despite having money that could have enabled her put most expensive wigs, dresses or even import human hair from Brazil. But wait and meet a poor Kenyan lady who forces her man to boy her Brazilian hair or it's over 😂😂 pic.twitter.com/ws2laBuNTY

— The Raccoons (@Hodgemanspecial) July 4, 2019
Among the keynote speakers of the day included the President of Kenya Hon Uhuru Kenyatta who had nothing but praises to shower his fallen friend. He said:
We have lost a friend and a part of our soul
President Uhuru pays his tribute to the late Bob Collymore. #BobcollymoreRIP pic.twitter.com/Vb06HhVySj

— K24 TV (@K24Tv) July 4, 2019
One of the most touching goodbyes came from his Safaricom predecessor Michael Joseph.
'Bob & I agreed that whoever would survive the other, they would read this poem at the other's funeral…I am sad and heart broken to be the one reading this poem today… To the man I loved, fare well my friend'
Kenyans all over the country have been glued all morning watching the proceedings and have flooded social media with kind warm messages to the family and friends. Check some of them out below:
#BobcollymoreRIP @Wambui few people know the pain of being a widow. The memories of laughter, emotive moments, the memories of visiting your children in school and the cherished moments…suddenly gone. Sorry for the loss
Fare thee well #BobCollymore
What a soul What a legacy pic.twitter.com/Y7gecl7gV2

— NEHEMIAH KANDIE (@Nehemiahkandie3) July 4, 2019
Wambui collymore is the most admired person in Kenya right now!
The grace shown by this lady during this hard and difficult time is unimaginable.
We can see why Bob collymore trusted this woman with his life!#BobcollymoreRIP pic.twitter.com/OPxBIIOit9

— ping pong official 🇰🇪 (@pauliddiali) July 4, 2019
Bob's friends gave him the name 'Kihara' and when they went to visit him next, his wife (Wambui Collymore) had put up a sign with the name 'Kihara' on it. #BobcollymoreRIP pic.twitter.com/24CeOUebaN

— K24 TV (@K24Tv) July 4, 2019
Take Heart Wambui Collymore. The first family, Tony Blair and all Kenyans join you and the Safaricom family in celebrating the life of our departed hero Bob Collymore.
May his soul find Eternal Peace. pic.twitter.com/3kdIPBe6oF

— Austine Barasa (@Barasaaustins) July 4, 2019