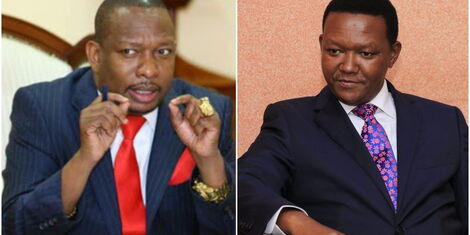 A looming supremacy beef has been experienced between Machakos Governor Alfred Mutua and Nairobi Governor Mike since the former offered to come to the rescue of the famous Tom Mboya and Dedan Kimathi statues in Nairobi which he claimed have been left in a dire 'crying situation.'
Governor Mutua who expressed his high levels of dissatisfaction on how the statues are being managed blamed Sonko for neglecting some of his sole duties to focus on politics.
While majority of Kenyans went on to congratulate him for the move, others bashed him for neglecting his own county. Mutua was reminded of the Muindi Mbingu Statue at Machakos Junction which been neglected to a point that an 'arm' was missing.
Machakos Governor Alfred Mutua accused Mike Sonko of neglecting statues erected in the city centre and vowed to repair Tom Mbaya's statue.

This is Samuel Muindi Mbingu statue in Machakos with one arm missing.
Rubbish!! pic.twitter.com/k1XqjZQNkA

— Japhe 🇰🇪 Fx (@japhefx) June 26, 2019
The intensifying criticism has seen Mutua send his men to repair the statue at night. Sonko shared the video mockingly congratulating the overworking governor for working till night hours.
Posting the video Facebook account, Sonko captioned;
"Right now Machackos county Government repairing the Muindi Mbingu statue at Machackos junction which had one hand missing. Keep it up for the good job at this hour".
Sonko on Thursday as well stormed Machakos town on Thursday to respond to Mutua's criticism on his leadership in the capital city.
Governor Sonko visited Machakos Central Police Station following the closure of a hotel owned by former MP Kalembe Ndile and arrest of five workers on Wednesday evening.
Nairobi Governor Mike Sonko has stormed Machakos town in response to Governor Alfred Mutua's criticism on his leadership in the capital city. https://t.co/g1bISpQJgQ pic.twitter.com/8Egqx3yeQz

— Nairobi News (@Nairobi_News) June 27, 2019
This is happening just a day after Sonko swung into action a day after Mutua shamed him over the defaced statues of Tom Mboya and Dedan Kimathi.
The flamboyant Governor sent a team to clean up the statues and get rid of the rubbish that had piled up around them on Wednesday morning.
There are also several photos that show county workers cutting grass and clearing up litter around the Tom Mboya statue that is located on Moi Avenue.
A video doing rounds on social media also shows City Hall staff washing the Dedan Kimathi statue and its vicinity.