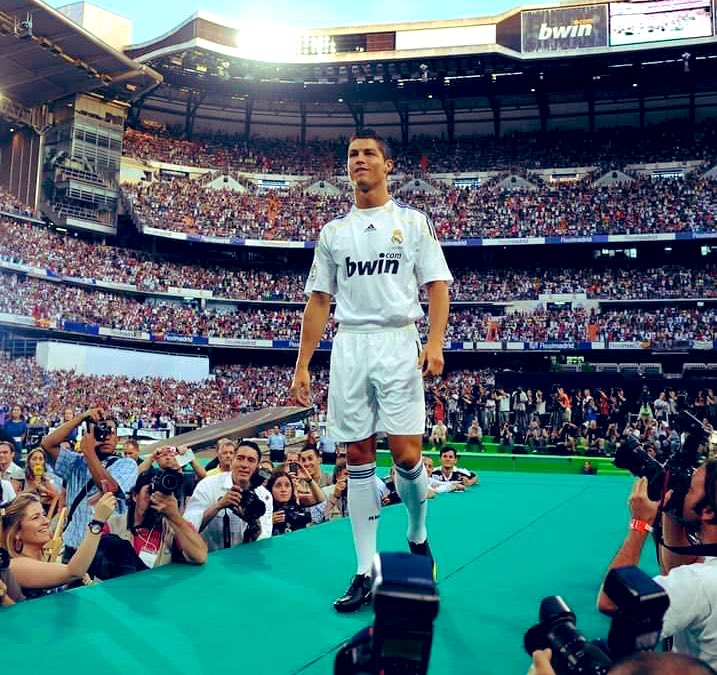 While Real Madrid came out in plenty on Thursday during the unveiling ceremony of Eden Hazard, their number still could not be compared to the number that attended the presentation of Cristiano Ronaldo in 2009.
Eden Hazard who joined Real Madrid from Chelsea for a whopping fee that could exceed £150m.
After successfully undergoing a medical test, Hazard signed a five year deal with the Los Blancos with the witness of the president Florentino Perez.
The Belgian reiterated that his dream since childhood is to play for Real Madrid, a dream that seems to have come true and the player believes that it is not too late.
"My dream ever since I was a child has been to play for Real Madrid. I don't think it is too late, I am 28 years old, the best moment for a player," he said.
He also added that he had admired to play under his childhood idol Zinedine Zidane, who prompted the player to move to Santiago Bernabeu this summer.
"Everyone knows Zidane was my idol growing up," he said. "That he is the coach has been an important factor but not the only one. I already wanted to play here."
Even after the club pleaded with the club fans to come in plenty to grace the unveiling of Eden Hazard, fans showed that they valued Cristiano Ronaldo more than the Belgian.
Ramon Calderon (Ex Real Madrid President):

Is Eden Hazard, Cristiano Ronaldo's replacement?

"No it's impossible. No one can substitute a player like Cristiano. Hazard is a top 5 player one every team would want but Cristiano is a player that comes once every 20-30 years." pic.twitter.com/5LnAB0mcsA

— TeamCRonaldo (@TeamCRonaldo) June 7, 2019
"Come to Hazard's presentation!" a message from the club has stated.
According to statistics regarding the largest crowds to see a player presented, Hazard is fifth after Ronaldo but third at Bernabeu Stadium after Cristiano Ronaldo and Ricardo Kaka.
The crowds come out for the world's biggest stars 🌟 pic.twitter.com/m6R4OOmvyc

— B/R Football (@brfootball) June 13, 2019
Kaká: 55,000
Cristiano Ronaldo: 80,000
Eden Hazard: 50,000

Real Madrid fans turn out in huge numbers to welcome their Galacticos. 🏟 pic.twitter.com/GT4SuovUi2

— Squawka News (@SquawkaNews) June 13, 2019
That clearly showed that Ronaldo is still the most-celebrated player of all time.