COTU Secretary General Francis Atwoli is a man currently hitting the Kenyan headlines on a daily basis all for wrong reasons.
The outspoken secretary famously known for his 'washenzi' phrase is now fast neglecting the union's core representations and wading his feet into the dirty Kenyan politics.
Listening to the first ten or so minutes of the video of Francis Atwoli's 2019 Labor Day "speech" one will definitely have to stop, gather themselves and resume – not because the man's diatribe was compelling or infused with thought-provoking/instructive nuggets of wisdom befitting his experience in Kenya's labor circle but because of his useless politics.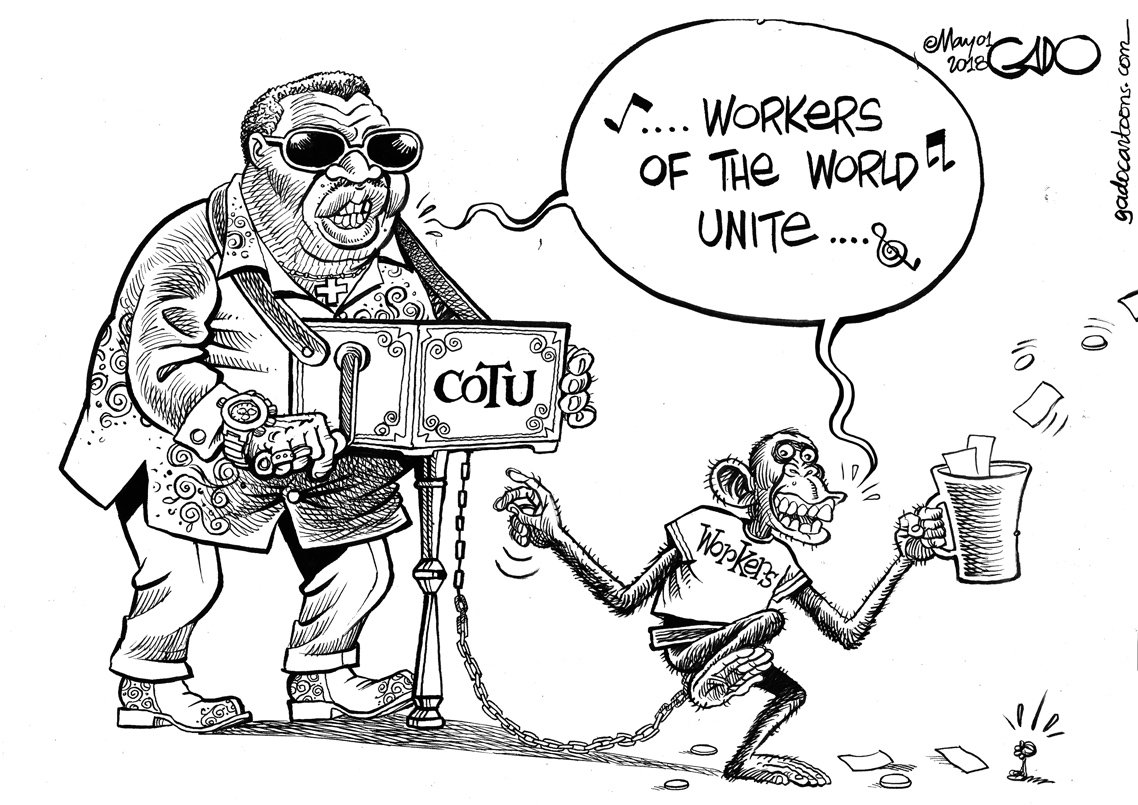 Atwoli has outlived his usefulness and relevance in the union. I then soldiered on, struggling to finish the 30-minute "speech" so as to write an informed piece about the man and his tenure as COTU-Kenya's Sec-Gen.
Is this what passes for a labor leader – in a country that gave the world trade unionist extraordinaire Tom Mboya?
And Kenyans wonder why the Chinese have flooded the local market with cheap oftentimes sub-standard trinkets instead of Kenya's manufacturers doing the same!
It's because Kenyans allow such blowhards to lead the country's premier labor union organization. Aside from the thirty or so minute rant at Uhuru Park, what has this man Atwoli accomplished during his tenure in office?
The man's incoherent meanderings on an auspicious day underscore why industries that Kenya could have developed into viable and sustainable employment-generating engines are closing left and right – victims of incompetence-induced neglect and disrepair not to mention a regional and global marketplace that is unforgiving.
Does the man even understand the Vision or Mission of COTU-Kenya – the organization he heads?
And how exactly does pandering to fellow blowhards and political hacks such as Moses Kuria and/or Mike "Sonko" Mbuvi "improve the economic and social conditions of workers in ALL parts of Kenya" – the first bullet point in the organization's "Objective"?
Shouting himself hoarse about how much of a "Kikuyu" he is will not stop the heartless and thoughtless treatment of commuting Kenyan workers by a feckless and impetuous Mike Sonko whose "Ban on Monday" and "Reversal on Tuesday" of matatus into Nairobi's CBD greatly inconvenienced the very workers whose safety and well-being the loud-mouth Atwoli is supposed to champion.
It is obvious that the man is clueless about the demographics of the country's labor force – not to mention their political leanings.
Questioning the patriotism of Kenyan-Somalians, who are either Kenyan citizens or related to Kenyan citizens, does not endear him to those of us whose patriotism is always being questioned.
Fishermen, cotton farmers and sugarcane workers – all in the lake region – have lost their livelihood thanks to the political expediency reflected in Atwoli's Labor Day brown-nosing.
And if the dairy farmers in Central/Mt. Kenya region thought they were immune to the ethnicization of Kenya's labor movement, they were gravely mistaken as Brookside Dairy tightens its monopolistic grip on the sector and squeezes aside small farmers; all aided by the company's ownership! Yet somehow, you wouldn't know that from Atwoli's tantrum.
Maize farmers have been victimized by cheap imports linked to some of the politicians whose praises Atwoli championed in his "speech".
This year's Labor Day theme "Eradicating Corruption to Create Jobs", when juxtaposed along Atwoli's embrace of a regime that is ranked in the top percentile of the world's most corrupt countries and arguably the region's worst-governed one is a pipe dream and a sure way for Kenya's labor sector and job market to continue their downward spiral of the last quarter century Francis Atwoli has been COTU's Secretary-General.
The Man Has Got to Go!