A Kenya Defence Force (KDF) officer based at Lanet, Nakuru yesterday killed three people before turning the gun on himself, in a bizarre incident that shocked villagers at Jua Kali, Turbo, Uasin Gishu county.
According to sources within the Military Police Unit, Harun Tiony was on liaison duties operating in Eldoret, Busia and Lokichoggio and had spent four days in the area with friends and relatives and did not show any signs of stress and aggression.
Preliminary police reports say Tiony had visited Recruitment Training School (RTS) on Monday where he collected his gun and took it to Cheramei Police Patrol Base at Jua Kali. This was corroborated by his cousin Eliud Kiptanui, who was with him on Monday, before he went on a shooting spree yesterday morning, killing Kiptanui's widowed mother.
"We had visited RTS with him where he collected the gun and took it for custody at Cheramei. Later in the day, we were joined by his female friend Dorcas Lorinyo, who is also a KDF officer and other friends for a drink. I never imagined he would turn wild and kill people," he said.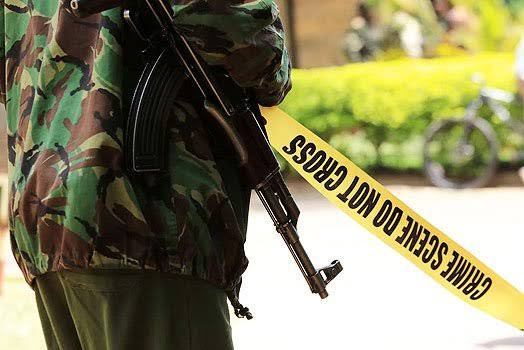 It is claimed Lorinyo and Tiony were ex-lovers having met at Lanet at some point in their career.
According to Kiptanui, Lorinyo left the drinking joint a bit early because she had a morning assignment, leaving Tiony and his friends behind. Early Tuesday morning in the company of Kiptanui, the KDF officer collected his rifle at Cheramei and headed for Lorinyo's house.
"While I was waiting for him from where he had parked his car to pick Lorinyo from her house for work, I heard a commotion between them and then gun shots, I fled the scene for safety," said Kiptanui. He is said to have sprayed Lorinyo with several bullets before running to his aunt's home and shot her dead.
After that he got into the vehicle and headed to his uncle Bernard Muge's home three kilometres away where he smashed through a metallic gate and rammed into his uncle's house.
"The vehicle hit my room and I thought maybe they were robbers. I took hold of my grandchild and fled using the back door before trying to reach my husband on phone who was in another room. It was too late…. We raised Tiony after the passing on of his mother and I cannot believe he did this," said Muge's wife Florence. Tiony had sprayed his uncle Muge with several bullets through the window before eventually turning the gun on himself.
Eldoret West police boss Zachary Bitok confirmed the incident saying they are pursuing all leads that would help unravel the motive behind the killing. "We collected four bodies including the perpetrator's and took them to Moi Teaching and Referral Hospital mortuary. The information is still scanty, but we hope we will eventually find out what transpired," said Bitok.
Neighbours, who asked for anonymity confided to People Daily that the killing might have been motivated by land wrangles.