Nakuru Governor Lee Kinyanjui has said that his government will honour the late Nobel Laureate Wangari Maathai with a statue at Nakuru town's Nyayo Gardens.
Kinyanjui said the bronze statue of the environmentalist, who died in 2011, will be part of the town's Sh20 million rehabilitation programme.
He said Nyayo Gardens will be turned into a modern green park with a variety of services. An information centre and a race track would also be established in the five-acre park on Kenyattta Avenue, the governor said.
"When we started this project, some said it was not a priority but environmental matters are always a priority for us," he said.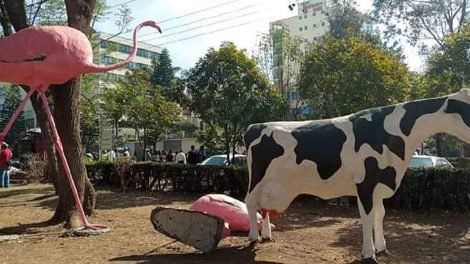 The decision comes after the county bashed by Kenyans over statues erected at Nyayo gardens that have been the butt of hilarious jibes.
The statues include the symbol of Nakuru county, the flamingo,  among other animals.
Kenyans online had a difficult time figuring out what the sculptor had in mind. For instance, the flamingos are way bigger than their normal size and  stand next to miniature of a cow.
KOT observed that the cow looked more 'like a giraffe in a cow's skin'.
Nakuru County spokesperson Beatrice Obwocha has disowned the statues and explained that they were left behind by a group of artists who were showcasing their talents.
Kinyanjui vowed that members of the public would be invited to give their views on how best to improve the gardens, which is also home to a World War II commemorative plaque.