The handshake deal must have turned tables for one ODM Communications Director, Philip Etale.
Like his boss ODM Leader Raila Odinga, Etale is known to be a top-notch government critic but not anymore. After the handshake launch, he is now in the company of those singing praises hymns to the Jubilee government.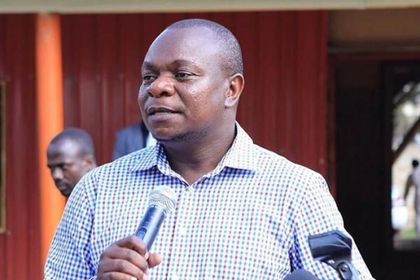 It all started after Etale went on to praise the SGR project and supporting the loan borrowing exercise by his boss Raila Odinga and Uhuru Kenyatta.
He wrote;
" I will be telling you FACTS about SGR, it's original plan and how it is going to make Western Region an economic hub. Keep it here… "
A tweep was so quick to note this and reminded him of his previous post before Raila was involved in the loan borrowing process where he criticized the whole SGR process.
"You oppose, then you propose and agree. @EtalePhilip is a Political prostitute!! , " the tweet read.
This attracted reactions where tweeps labeled him a political broker. Here are some;
The benefits of the handcheque

— just_mute (@kiarie_gmutent) April 24, 2019
@EtalePhilip waambie pay cheque before everything.. @DavidNdii just confirmed the SGR was a GCG project, signed by yours truly @RailaOdinga with similar costing.. You went from support to oppose then now back to support.. Baba akisema jump… Etale must jump. Simple as that.

— Kevin Maina 🇰🇪 (@KabiraMaina) April 24, 2019
Now we know SGR will not be ending in Naivasha. Uganda President was recently here and offered a commitment to ensure the line heads to Kampala and offers a quicker alternative of transporting goods between the two countries.

— David wa Kwallimwa (@kwalimwadavid) April 24, 2019
Nobody opposed SGR, In fact it was Kibaki/Raila brain child, they signed contract with chinnese, what NASA opposed was inflation of the original cost when UhuRuto took over.Borrowing loans for Looting is what NASA opposed.

— Ledama Kiplangat (@kiplangatLedama) April 24, 2019
Gambling imewamaliza, use this link and make small money ulipe rent.
Thank me later.

— SHAMBALA (@Sir_Shambala) April 24, 2019
Ye,history is not forgotten,, people like #philiphEtale are just attention seekers,,they even add no value in the political background,they are just here to yell,,bure

— @joylelon (@joylelon) April 24, 2019
@EtalePhilip et al are playing to the script of their last election financiers who'd, by da way, negotiated the initial deal but missed the "cut" to jubilee's dynamic duo. "Cut" from new deal will help financiers recoup their 💰. #simpleasthat #heshimusponsor

— Kiprotich Rono (@Sir_Rono) April 24, 2019
Undersatnd @EtalePhilip, there's that thing they said about empty debes….🤔

— AfriKKKan 🇰🇪 (@otieno_sylvery) April 24, 2019