Raphael Tuju, the Jubilee Party secretary-general seems to be one of the biggest individual beneficiaries of the 'Handshake' between President Uhuru Kenyatta and former Opposition hot head Raila Odinga.
As Cabinet Secretary without portfolio in the Jubilee government, Tuju has become a key person in pushing forward the Building Bridges Initiative spearheaded by Uhuru and Raila after the 'Handshake', which some feel is targeted at checking Deputy President Dr William Ruto's presidential aspirations especially following a push to create a powerful Prime Minister's position.
Sources intimate that Tuju and former Jubilee vice chair David Murathe played a key role in reconciling Raila and Kirinyaga Governor Anne Waiguru, who had sued him for linking her to the National Youth Service scandal. Their rapprochement came following a directive from State House.
The 'Handshake' changed Tuju's fortunes so much so that he was among the first politicians to declare that Deputy President Dr William Ruto would not be the automatic Jubilee candidate in 2022 after Murathe had made similar remarks.
The position rattled Ruto's allies who came out fighting while demanding his resignation as Jubilee Secretary-General.
He dismissed his critics, saying many Kenyans, including those in Jubilee, are yet to figure out what the Uhuru-Raila deal is all about.
There has even been talk that Tuju could be fronted as the successor to Siaya Governor Cornel Rasanga but the one-time television news anchor denied having such ambitions even after being prodded on by then Jubilee vice-chairman David Murathe at the burial. The seat is eyed by key Raila allies, including Siaya Senator James Orengo.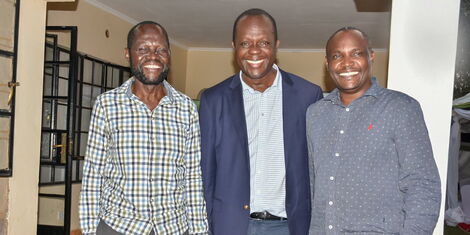 Never mind a month to the Harambee House 'Handshake', Tuju had dismissed Raila's Swearing-in as the People's President likening it to "Kalongolongo", a game played by small children.
The current windfall for Tuju is thus a 360-degree turn of events considering that the former Foreign Affairs Minister was once such a fierce critic of 'Baba.' Their bile spilt over to voters who booted him out at the ballot as Rarieda MP in the 2007 General Election after serving for one term.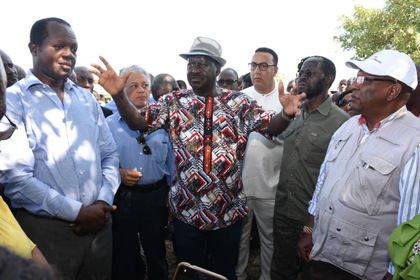 President Uhuru's move to mend fences with Raila, his main opponent in the elections, through the historic March 9 'Handshake' greatly worked in favor of Tuju, who has since embraced it, warming his way into Raila's court.
His bromance with Raila has since grown by leaps and bounds and in recent weeks, he has become a permanent fixture on Raila's right side during functions in Luo Nyanza, the latest being the commemoration of the death of his father Jaramogi Oginga Odinga in Bondo where speakers rooted for the Building Bridges Initiative. They included Uhuru's younger brother Muhoho Kenyatta, who abhors publicity. His presence made a big statement.
Political observers also noted how key Raila allies, previously sworn political enemies, trooped to the burial of his brother Kefa Tuju