It's another season to get on the road, whether it is a family thing or it's the road trip gang getting together this easter you can never go wrong with Naivasha.
Naivasha is popular with party people, or should I say those that love to 'tetema', but let me assure you there are plenty more reasons to explore this hidden gem.
It's home to some of the best scenery in the country that often go unexplored while visiting the place. Next time you're in the area, be sure to stop by these places.
1.TGRV Circuit
For adrenaline junkies, this is your playground. The massive, world-class facility hosts a number of activities including go-karting, ziplining and archery. They also have dining and accommodation facilities so you can fully explore the place. It's a fun place to take the kids or host a boy's day.
The pricing depends on the package selection and the number of people you will go with.
2.Kereita Forest
This is a marvellous display of Naivasha's greenery. The vast Kereita forest is home to fun outdoor activities. The most popular one among locals and tourists is zip-lining. You can enjoy a bird's eye view of the forest on East Africa's longest zip tour. Additionally, you can enjoy paintballing, bike riding and fly fishing at this location.
3. Sanctuary Horseback Safaris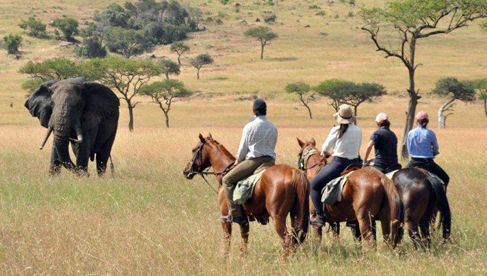 Located at the shores of Lake Naivasha, this 500-acre farm is home to some of the most beautiful racehorses in the country. While horseback riding, you can be sure to spot a number of wildlife animals including elephants, giraffes, gazelles and buffalos.
4. Ol Karia Spa
How about a nice, natural detoxing spa day at Ol Karia? This place contains hot springs that are rich in minerals which helps to purify the liver and gives you good skin. KenGen created an all-natural spa where visitors can take a deep while enjoying the scenic environment. This would be a relaxing stopover as you head on to your destination in Naivasha. Entrance to the park costs Ksh 700 and swimming in the spa costs Ksh 400.
5.Crater Lake Game Sanctuary
The sanctuary is surrounded by a breathtaking green, crater lake which is home to a variety of animals and birds including flamingos. Visitors can take a nature walk through the steep crater rim. You can spot a variety of game animals such as zebras, gazelles and an impressive bird species. A full-day tour costs Ksh 6,000.
6.Kariandusi Museum
For those interested in archaeology this museum houses some of the most ancient artifacts known to man. From skulls to pre-historic tools, Kariandusi Museum is a must-see for anyone visiting Naivasha. This site dates back to millions of years ago and is thought to have been a stone factory for hunting tools. It would be an exciting trip for adults and an educational trip for kids. Entrance charges cost Ksh 500 for non-residents and Ksh 250 for children.
7.Naivasha Owl Center
Located near Lake Naivasha, this bird sanctuary takes in injured birds and rehabilitates them back to health. The name came by when the founder found an injured barn owl and nursed it to health.
Over the years, the sanctuary has been a second chance at life for more birds including eagles. The sanctuary raises awareness about birds of prey and it's a good place to take the children. For members, it will cost you Ksh 3,700 as an adult and Ksh 3,250 for children under 12 years. Non members will pay Ksh 3,950 for adults and Ksh 3,500 for children.