Women are smart and have a unique power. A charming woman can easily get all she needs from any man without much hassles.
The former wife of the richest man on earth MacKenzie Bezos who had previously divorced will now walk away with trillions of the money which her husband had been working hard to earn.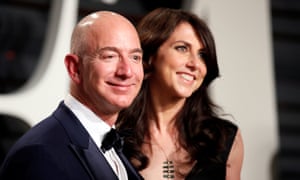 Amazon CEO Jeff Bezos former wife will walk out of her marriage with company stock worth Ksh.3.5trillion after the two agreed on divorce terms.
How the romance started
Jeff Bezos and MacKenzie Bezos first met when Jeff was working as the senior vice president of the hedge fund firm D. E. Shaw. MacKenzie interviewed for a research associate position with the company, according to Wired.
She was able to snag the gig and immediately set her sights on Jeff.
"My office was next door to his, and all day long I listened to that fabulous laugh," she told Vogue. "How could you not fall in love with that laugh?
It wasn't long before MacKenzie suggested they do lunch, and Jeff agreed. The rest, as they say, is history.
Unlike some couples who prefer to let their relationships evolve at a slow pace, MacKenzie and Jeff said "I do" at lightning speed. According to Vogue, they got engaged after three months and became husband and wife three months after Jeff put a ring on it. How's that for a quickie marriage?
Jeff Bezos, the billionaire founder and CEO of the online retail giant, announced on Wednesday that he and his wife of 25 years, MacKenzie, will divorce .
"As our family and close friends know, after a long period of loving exploration and trial separation, we have decided to divorce and continue our shared lives as friends," the couple wrote in the statement issued via Twitter.
Today, Bloomberg estimates Bezos is worth $137 billion (Ksh13.7 trillion), making him the richest person in history, according to CNN .
He's also topped Forbes' annual list of the richest people on the planet for the first time ever. And Amazon followed Apple to become the second-ever US company to reach a $1 trillion valuation although the company has since dropped back to a $791 billion market cap.
At one point Bezos described his wife as "resourceful, smart, brainy, and hot" during an interview with Vogue. This loving quote, along with many others, led many to believe Jeff and MacKenzie's marriage was solid, albeit a bit strange.
Shockingly, the couple was struggling behind the scenes, and we were all so clueless about their marital strife, up until the duo released a joint statement on Jan. 9, 2018, to reveal they would be ending their marriage after 25 years. Bummer.
What went wrong for the parents of four? Well, a lot actually. After news of their divorce hit the press, all the juicy details about the Bezos' failed marriage began to seep out. What we thought was a picture-perfect relationship turned out to be a lot juicier and more dramatic than any novel MacKenzie could ever write.
From news of a hot and steamy affair, to reports that their divorce may be one of the costliest ones yet, here is everything we know about Jeff Bezos' divorce.
A shocking divorce announcement
Jeff Bezos took to his Twitter in January 2019 to announce that he and MacKenzie Bezos were calling it quits after 25 years of marriage. In a joint statement, the couple stated they had gone through a "long period of loving exploration and trial separation" before deciding it was best that they go their separate ways.
Still, Jeff and MacKenzie revealed that they had no regrets with the way their romance panned out. "We feel incredibly lucky to have found each other and deeply grateful for every one of the years we have been married to each other," their statement continued.
Through their statement, they also revealed that "family and close friends" knew they had been going through marital woes. However, the rest of us were blindsided. Little did we know, rumours about the catalyst of the divorce were even more shocking than we could've ever imagined.
Did too many differences cause a rift?
Jeff and MacKenzie Bezos are both Princeton University grads, although Jeff received his diploma around six years ahead of his MacKenzie, according to CNBC.
Still, MacKenzie was a good sport. She would put on a dazzling evening gown and show up to events in support of Jeff, but she was noticeably absent from his side at Amazon's Golden Globes party, which took place just days before their joint divorce announcement, according to People. However, someone else was all smiles at the event, but we'll get to that in a bit.
An alleged affair
After Jeff Bezos and MacKenzie Bezos announced they were headed for splitsville, the National Enquirer released a bombshell report, alleging Jeff had been carrying on a months-long affair with a woman who's also in the process of ending her marriage, EXTRA host Lauren Sanchez.
The Enquirer began tracking Jeff and Sanchez's alleged relationship after she and her sister were spotted exiting the Amazon head honcho's private jet in October 2018. The jet ride also reportedly caught the attention of MacKenzie, who allegedly saw Sanchez's name listed on the flight manifest.
Not only had Jeff reportedly allowed Sanchez to use his jet at her leisure, he and his alleged mistress had visited "exotic destinations" together and were tracked everywhere, including "swanky limos, helicopter rides, romantic hikes, five-star hotel hideaways, intimate dinner dates and 'quality time' in hidden love nests," according to the Enquirer.
He's already in 'love' with his alleged mistress
Not only had the National Enquirer been scoping out Jeff Bezos and Lauren Sanchez's alleged affair for months on end, but they reportedly got ahold of some racy text messages between the alleged lovers, including "shirtless photographs" of Bezos, as well as one of his, well… let's just call it an extremely personal Amazon package. Yikes.
Despite both Bezos and Sanchez being married to other people, Bezos, who the Enquirer described as a "horn-dog billionaire," didn't hesitate to pour his heart out in one text that reportedly read, "I love you, alive girl. I will show you with my body, and my lips and my eyes, very soon." Umm… cringe.
In another message, dated May 13, 2018, the Amazon bigwig reportedly texted: "I want to smell you, I want to breathe you in. I want to hold you tight.… I want to kiss your lips…. I love you. I am in love with you."
Sources told the gossip rag (via the Daily Mail) that Bezos was indeed "in love" with Sanchez and attempted to ease her mind about their alleged dirty deeds. "We don't have to worry about the parachute opening because we are jumping together. We are sharing the parachute and it will land safely. We have chosen each other," he allegedly wrote.
How… romantic?
This could be the most expensive divorce ever
Now that their marriage is over, there's a lot at stake — $137 billion, to be exact.
Along with their oodles of cash, TMZ reports Jeff and MacKenzie also "own 400,000 acres of property," which will likely be up for grabs in the divorce proceedings, as well.
We hope things can remain amicable between them as they split up their trillions, but now that Jeff's alleged affair has been thrown into the mix, we wouldn't be surprised if MacKenzie gets the claws out.
According to CNN, this is 4percent of the company's outstanding common stock and is based on Amazon's current market value.
If MacKenzie Bezos sells her shares, the buyer would have to enter into an agreement with Jeff Bezos to grant him the rights to vote those shares, the CNN report adds.
The amount is bigger than the Kenya Government budget for the 2018/9 financial year.
CS Henry Rotich tabled a Ksh.3.074trillion budget in June last year, the highest in Kenya's history.
Video of how Much Could Wife of Amazon's Jeff Bezos Get in Divorce?
County governments were allocated Ksh.372billion.
Looking at the Mackenzie Bezos divorce settlement, it can finance the county governments for about 9 years.
It would also build the current Standard Gauge Railway line from Nairobi to Mombasa 11 times over.
The Thika Superhighway was built at a cost of Ksh.28billion meaning that Bezos money could pay for 125 such roads.
What are your reactions about this divorce story?
Please like, comment and share the article.