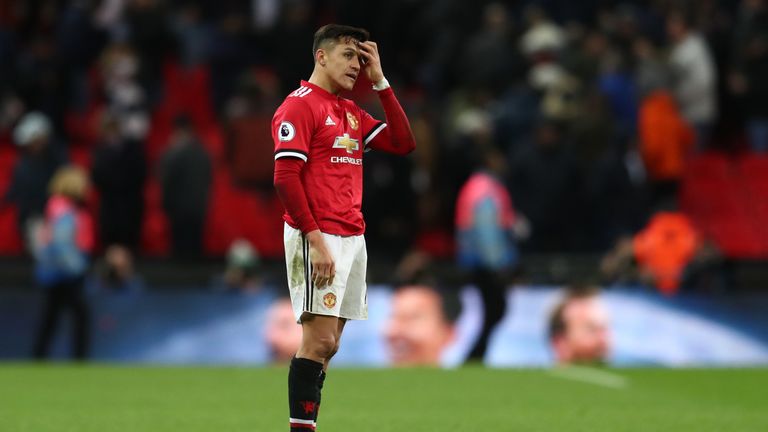 Alexis Sanchez's move to Manchester United has been an unmitigated disaster.
Since swapping the Emirates for Old Trafford in January the 29-year-old has scored just four goals in 30 appearances and he's found himself in and out of the team at the start of this campaign.The Chilean forward is currently out with a hamstring problem and will miss Wednesday night's game against Arsenal, and ahead of that fixture Gunners legend Emmanuel Petit has stuck the boot in.
"The manager is on the bench, so you need to show pride in your own performance when you are on the field and the first one who has gone into hiding at United is Alexis Sanchez," Petit told Goal.
"He wanted to leave Arsenal because he was chasing the salary United could offer. Now he receives so much money and in nine months what has he done? Nothing. I have not seen him. I think they signed his brother.
"I understand that players believe they deserve certain financial rewards when they reach a certain level, but what we have seen from Sanchez at United has not been acceptable."
Jose Mourinho has had the blame for a number of United's issues laid at his door at the start of this season but Petit doesn't think he is responsible for Sanchez's struggles.
"Alexis Sanchez is not the same player anymore," Petit added. "His move was a fiasco.
"Some people will say it's because of Mourinho and the way he plays, and I understand that a manager can have a big impact tactically and when he picks the player, but we all know the exceptional talent of Sanchez.
Mourinho did not give him poison that all of a sudden has taken away all of his qualities.
"For me, I'm thinking, what has happened to Alexis Sanchez since he signed for Manchester United? Where is he?
"I'm pretty sure he doesn't regret the move because he is one of the best-paid players in the Premier League, so he must be happy with what is in the bank. On the pitch though, it's been a disaster."