Interior Cabinet Secretary Fred Matiang'i has played down  Kenyans concerns over the 'heavy militarization of national examinations'.
Mr.Matiang'i maintained that security personnel are doing a wonderful job in securing the tests and are in no way intimidating candidates writing the same.
Speaking  in Kilifi on Wednesday, the CS  cooled down fears raised by Activists and education stakeholders have over the suitability of armed security to guard the exams.
"It sounds nonsensical. These are some of the silly things some petty people engage in as a country and we waste time on such stupid things, We are providing support to our children to do exams."
He further added the same will continue ensuring all students and Kenyans at large are secure.
"This is the level of delivery and performance the people of Kenya expect of us. And we will deliver clean exams," he said.
He was at the Kilifi South deputy county commissioner's offices where he supervised the opening of the Day 2 KCPE exam container.
"Every child who is supposed to sit exams will do so."if anything goes wrong, it is the same people who will be loudest questioning the absence of police."
The Interior CS further directed chiefs and assistant chiefs to monitor KCPE candidates after the exams end on Thursday.
Matiang'i said this will be to ensure easier follow-up of the pupils for placement after the KCPE results are announced.
"We must achieve the 100 per cent transition policy," said Matiang'i at the Mtwapa Elite Academy in Kilifi county.
The government is keen to ensure all KCPE candidates transit to secondary school with the Free Secondary Education policy in place.
Last year, the Coast region experienced problems after hundreds of students failed to transit to secondary school.
"This time, we are doing things differently. We want to start early," said the CS.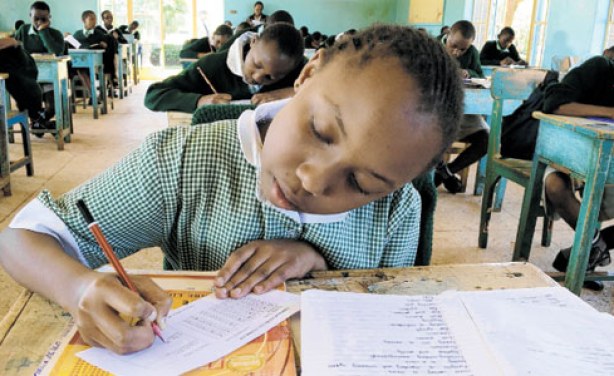 "In January, we had a meeting with leaders here at the Coast because we discovered our secondary schools were half empty," he noted.
He directed the chiefs and their assistants to get all the details of all the KCPE candidates in their jurisdictions and ensure they all go to secondary school.
He said the chiefs and assistant chiefs will be held responsible for the education of children in their jurisdictions.
"We will ask them, why is this child not in school, and they will have to answer," Matiang'i noted.
The National exams are due to continue tomorrow.