This is the clear message Kenyans on social media have passed to the Government Blogger Dennis Itumbi and Jacque Maribe's ex-lover.
Do you think Itumbi is craving to win Maribe back after their break up?
Is he trying to capitalise on Maribe's current troubles to win back love in that hopeless state?
"Mapenzi hayalazimiswi"( Love is not forced). This is the message Kenyans have passed to Dennis Itumbi after his consistent so called prayers ahead of every court hearing Maribe has been attending.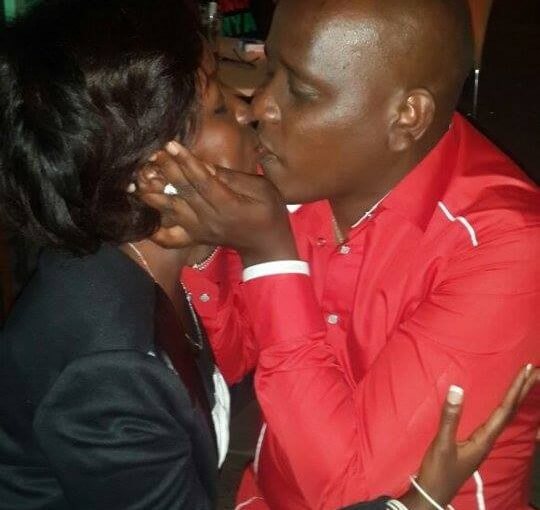 Maybe it is out of good heart , or maybe Dennis Itumbi is one of those cool ex-lovers you should probably have. The type who cannot block you after the break up . The type who even calls to know how you are moving on with you your new lover. Funny right?
Itumbi has been that kind of person to Maribe despite Maribe Dumping her and getting engaged to Joe Irungu is the crime suspect in the murder of the famous business lady Monica Kimani Nyawira in her apartment in Kileleshwa.
Anyway love is blind. How did Jacque Maribe dump senior government blogger to get engaged to an ordinary guard. But Jowie has those looks that could trap a lady. He is a hot nigga.
Itumbi has been seen embracing Jacque in court giving her hope and even moral support throughout the trial period.
The two are expected to appear in court today for their bail hearing.
In the case of Republic Vs Jacque Maribe,

I pray for truth to prevail, I do not pray for an avoidance of justice, but for truth to have its way.

For Justice to be served to all.

Full Prayer…….https://t.co/xdJJGvjYcl

God graciously hear me…..

Amen.

— Dennis Itumbi, HSC (@OleItumbi) October 29, 2018
This is after the two pleaded afresh to the charge of murdering Monica Kimani, jointly with others not before court.
Lawyer Katwa Kigen has pleaded with the court to free Maribe, saying her application should be considered separately from that of her co-accused, Jowie.
While Jowie's lawyers pleaded to have him freed on bail, the prosecution described him as a flight risk because of his previous stay in Dubai and that he is a danger to himself because he had tried to kill himself.
During the proceedings, Justice Wakiaga also declined to admit a Non-Governmental Organisation (NGO) known as Empowerment Through Media in the case, saying proper procedure was not used.
The NGO filed an affidavit through journalist Josiah Murigu who argued that the investigation against Maribe was shoddy.
Uko na umama mingi sana. Unaaibisha boy child.

— Deogracious Ekwaro (@DeograciousEkw2) October 30, 2018
Most people have criticized Itumbi but he  seems determined to rescue her ex-lover and he has been showing up with different government officials including Nairobi Senator Sakaja and Moses Kuria.
Its a bad case of obsession here

— Wanjiru N. (@Chiru101) October 30, 2018
Get a good wife Maribe alikukataa and I can see why.

— March Cahoy (@Marchcahoy) October 30, 2018
I wish you would pray for Jowie too,na kweli mungu ni wa ajabu aliweka utamu kwa mandizi, mananasi, maembe na nyingine akaweka kwa wanawake. Hallelujah

— Hillaire Lilechi 🇰🇪 🇯🇲🇩🇪🇦🇺 (@hills_prince) October 30, 2018
Why cant you just move on , she is taken and by the way justice must and should prevail ! Nyinyi watu wa jubilee tunajua mambo yenyu

— #LUHYANATIONFORRUTO🇰🇪🇹🇿🇺🇬 💎 (@babakisia) October 30, 2018