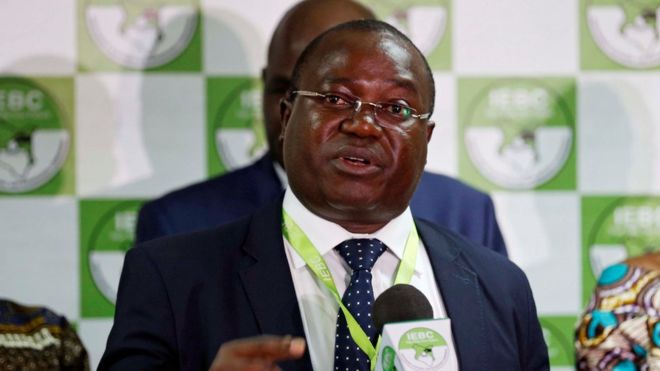 An autopsy has revealed the cause of Independent Electoral and Boundaries Commission (IEBC) ICT Manager Chris Msando's death. He was strangled, a post-mortem carried out on Wednesday at the Lee Funeral Home in Nairobi revealed.
"He died from strangulation and he also had incisions on his right arm but the rest of the body was intact," Government Pathologist Johansen Oduor, who was among pathologists who oversaw the procedure, said.  The autopsy was witnessed by two pathologists, one from the government and the other appointed by the bereaved family.
While waiting for the autopsy to be done, the family asked that Kenyans on social media should consider that they are in mourning and stop posting malicious things.
Facts About The Murder Of Chris Msando As Revealed by KTN TV Investigation
1. Msando's car was parked outside anniversary towers before he left with a man.
2. They left for a night out but Msando's car was apparently found at Roysambu area.
3. A security man on duty claims that he saw a medium height man with glasses getting out of the car.
4. The man who left with Msando from Anniversary Towers was later identified as Dan Kinyua.
5. He is a director of an IT Company seeking tender to provide the Results Transmission System for the August 8th elections.
6. He is a confidant of two senior government officials; a state house operative and the head of public service.
7. When asked by DCI where he went to after he left Msando, Dan claimed that he went to a pub in Kilimani.
8. When asked the same question by Msando's family member and his friend, he gave two blatantly contradicting answers.
9. That he was traveling to Central Kenya and that he was headed to Naivasha respectively.
10. Same man, same question and same time was going to a pub in Kilimani, to Naivasha and to Central.
11. The police then claimed that Carol Ngubu's body was found 300m away from Msando's body.
12. It is becoming apparent that the body of Ngubu was found 1km away from Msando's body.
13. Msando's family then reported his disappearance to Kilimani Police Station who claimed not to know his whereabouts.
14. They then proceeded to City Mortuary where they found the body having being brought by police officers contrary to their earlier denial.
15. Remember when a body is found by police officers, a signal is always sent through the police radio and every wielder is aware of such case.
16. Surprisingly, the body was taken to the mortuary's private wing which is only happens after the body has been identified by both the family and police.
17. Msando's body had apparently not been identified by any member of his family by the time it was being admitted at the private wing.
18. Up to date, the personal assistant to Chris Msando has never been questioned by the DCI despite having the documentation of Msando's movement and has severally been seen taking selfies with senior Jubilee strategists.
Just join the dots and you will know why and who mutilated and strangled Msando to death