Jose Mourinho fears for Manchester United's title hopes if he cannot sign another two players before the transfer window closes next month. The club have spent £75million this summer on Fred, Diogo Dalot and Lee Grant but Mourinho wants more backing from Old Trafford chief Ed Woodward to close the gap on Manchester City.
In a clear message to Woodward, he said: 'I would get two more players. But one thing is what I would like, another thing is what is going to happen.'
Asked if he feels United's current squad is capable of challenging for the Premier League title, he added: 'I don't answer your question. I don't have the majority of the players that are going to be in the squad on August 9 when the market closes and we can make the squad official for the season, so of course I'm not happy to have just a few players.'
Pressed on the situation on tour, he added: 'I've got the facilities as always, I am happy with the matches, the evolution of the matches, but I don't have the players to work.'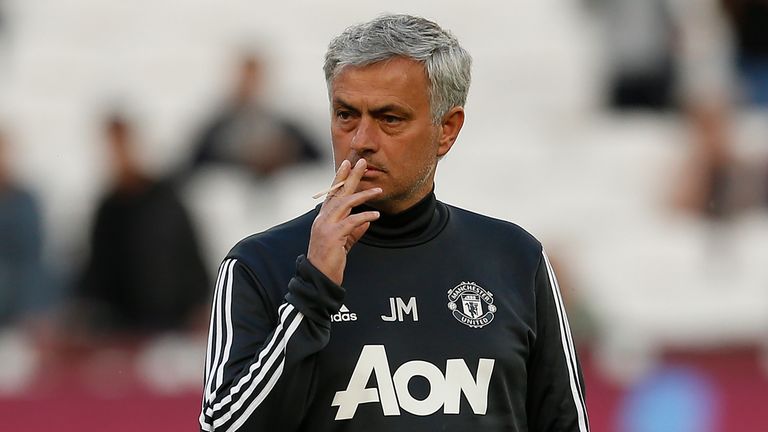 Mourinho wants another centre back after drawing up a shortlist that includes Leicester's Harry Maguire, Toby Alderweireld of Tottenham and Leonardo Bonucci of AC Milan. Maguire believes he will join United before the transfer window closes on August 9, although they will have to off-load a centre back and Leicester are bound to put a huge price on the England defender.
Mourinho still believes his rivals will have an advantage over United in terms of key players available for the start of the season, and believes his side could be vulnerable in their opening Premier League games against Leicester and Brighton.
He said: 'If you look to the players that Chelsea and Liverpool have in the pre-season, especially these two teams, also Arsenal, if you compare, you see the difference of the situation. Manchester City and Tottenham are in a similar situation as we are, but you can see that some other clubs are in a different situation. The first match of the season is against Leicester and the second one is against Brighton. I look to Leicester, if I'm not wrong, and only (Harry) Maguire and (Jamie) Vardy were in the World Cup in the final phase, because (Kasper) Schmeichel was back sooner. So I think a team working for six weeks minimum with all the players except one defender and one striker that can join in the last weekend and probably be available, it's clear it's a much better situation for them.
'When I look to Brighton, I don't think they have any player that isn't doing a very good pre-season with lots of training and matches. So against Leicester and Brighton the situation is not amazing for us. I would say the third match, playing against a team in a similar situation as us, after three weeks is okay. It's almost like you need a pre-season with them, but for the first two matches we have to fight for the points, so that is what we are going to do with the players available,' he said.
Mourinho refused to answer more questions on Pogba following his latest comments about United's £89million record signing, but confirmed that Marcos Rojo will undergo medical tests before deciding if he will join up with the tour.
'He's with the medical department,' added the United manager. 'He's in contact since the World Cup where he had some physical problem and the medical department has to make a decision if he joins us here or if he goes to Manchester for recovery and waiting for the team to be back.'
The players continued their pre-season preparations with a training session at the UCLA campus in California on Tuesday.