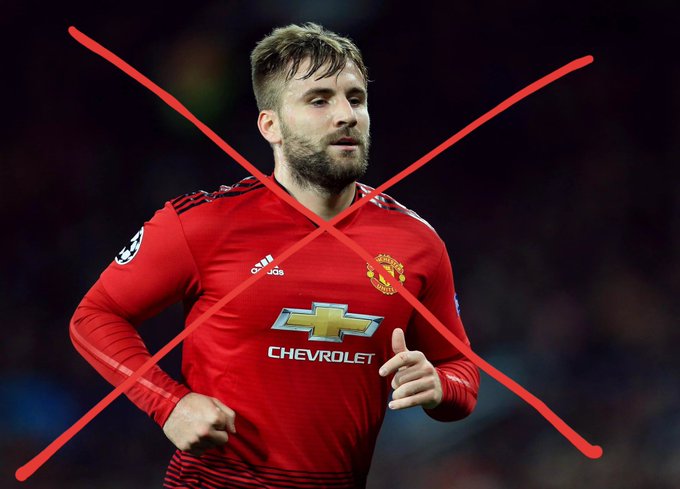 Manchester United left-back Luke Shaw is a man under the watch of everyone. Shaw was part of United's defense that conceded 50 goals in the Premier League last season.
And after Ole Gunnar Solskjaer had brought in two defenders Harry Maguire from Leicester City and Aaron Wan-Bissaka from Crystal Palace, Phil Jones, Chris Smalling, Victor Lindelof, and Luke Shaw will have to fight harder to feature in United's matches.
Maguire and Wan-Bissaka showed a good display in their match against Chelsea on Sunday and have won the heart of fans. However, Shaw, who played as a left-back received criticism over incompetence in the left-wing.
Former Manchester United manager Jose Mourinho, for instance, warned Maguire that he will need to do a lot to cover the left-back as long as Shaw is played in that position.
'When Maguire is attracted to cover Luke Shaw, and he has to learn that he has to do this a lot of times, during the season he will learn he needs to do that," said Mourinho.
And now fans disagree on whether Shaw is fit to play for the Red Devils. In their online conversation, a section of fans believe that the English defender is at Old Trafford by mistake while others still have some hopes for his improvement.
Check out some of the reactions;
I'm sorry but the propaganda starts now. I've been on a low key Shaw out propaganda for a while but now I'm ramping it up.

Luke Shaw is not good enough for this team, he is extremely limited in attack and offers next to nothing pic.twitter.com/Y1XZQ7IoQl

— Mase (@Utd_Mas) August 13, 2019
For what? Speaking out against a player who isn't good enough

— Mase (@Utd_Mas) August 13, 2019
Shaw isn't good enough and i have a completely valid argument. He had an okay season last year when the rest of our squad was awful

— Mase (@Utd_Mas) August 13, 2019
Finally, someone who respectfully disagrees. Well done sir, probably the first person who's disagreed with me that hasn't called me childish, plastic or an embarrassment

— Mase (@Utd_Mas) August 13, 2019
Grow up and support the team and all the players.

— Robby Mitchell (@RO88YMITCHELL) August 13, 2019
Even after 4-0 vs Chelsea you've got a negative attitude against one player? How? Why? What benefit does it serve? Get your act together mate! He's our only LB! After him, it's Young, and I can guarantee you'd take Shaw with 2 broken legs than Ashley Young at LB!

— Guillaume Trounson (@TrounsonG95) August 13, 2019
Why are fans still giving Shaw the benefit of his injuries?

Yes, it's awful, but the club can't remain stagnant because of an accident from years past. Shaw is not good enough to start and unfortunately it's not going to change. He can be a quality bench player

— Mike Ⓜ (@UtdExcellence) August 13, 2019
People been slaughtering me on here for 3years cus I been saying this, the bloke is a lazy player, too many touches before he passes,the ball, should of bought Tierney, now,we should try for Chilwell

— warren evans (@hardwickelegend) August 13, 2019
take it easy guy
he has played only one match this season

— Gabriel Konadu Afriy (@GabrielAfriy) August 13, 2019
why ?? him played well last sunday vs chelsea ??

— *Yisus* (@Guaragolpe) August 13, 2019
I'll watch him carefully in the next game so I can scrutinize our former "Player of the year". I'll also check his stats so I can have my input in this topic. Right now I'm sitting on the fence. I'm gonna judge him for myself and have a fair opinion.

— Ungovernable Mopps 🔰 (@Mpho_Mopps) August 13, 2019
There is no need for this. Support the team and players. Shaw has a lot of potential and having an injury like he had at his age plays a part.

He will improve, I'm sure of that.

— Alec Sharp (@AlecSharp81) August 13, 2019
I'm sorry but you need to get behind the team. Too many nay sayers and the weekend just proved that there is hope for the future and a lot of work to be done. You seem to forget Luke Shaw was the best ManUtd player before injury. He will get the form that he had before his injury

— United 4 Life (@AstrayUnited) August 13, 2019
You are an embarrasment to this fan base, slating a player who is balling, Was fucking Manchester United player of the year, top lbs in the league. Only Robertson is better, the others are debatable. Mendy is injured throughout, Zinchenko has quality around him…

— Harry (@kiletyen_godwin) August 13, 2019
have bigger problems in the squad than luke shaw, 1-2 midfielders and a right wing needs to be sorted before we start worrying about last seasons player of the year, shaw.

— Rashy20plusSZN (cstMANUTD) (@CstManutd) August 13, 2019