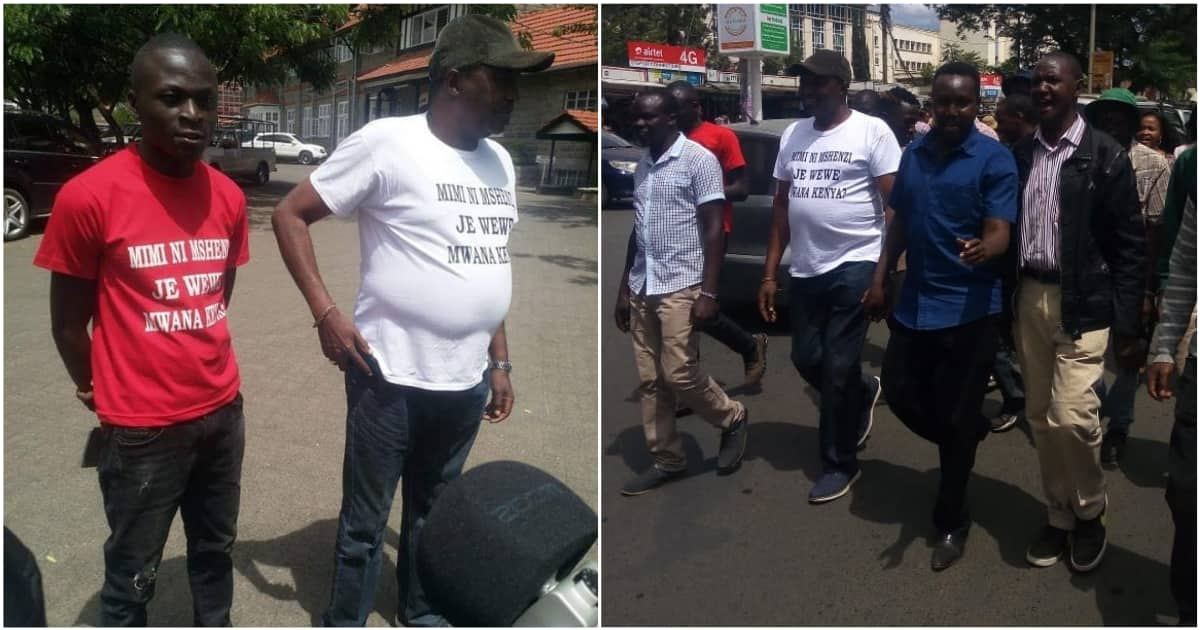 Bahati MP Kimani Ngunjiri is on the run after getting wind of his impending arrest by police in Nakuru town.
The MP on Tuesday afternoon led protests in Nakuru town with a horde of youth at tow, decrying President Uhuru Kenyatta's 'washenzi' comment.
His daring act has left Kenyans worried for him especially after reports of the manhunt for him by the police.One twitter user wondered whether Ngunjiri was digging his own political grave and if he would survive to fight for DP Ruto or if he would fizzle out like smoke come 2022.
Bahati MP Kimani Ngunjiri took a walk of defiance against @UKenyatta on the streets of Nakuru Town clad in white t-Shirt emblazoned #TeamWashenzi. Is he digging his own political grave? And Will he survive to fight for DP Ruto or he will fizzle out like smoke come 2022 #Washenzi pic.twitter.com/6DzZdolkyo

— Carrington Mwendwa (@CarringtonMwen1) January 8, 2019
Bahati MP Kimani Ngunjiri leading a demonstration of about 8 people against President Uhuru Kenyatta nigûtee. Ushenzi ???? pic.twitter.com/FcP5bGGCxZ

— Kenya Revolt HSC (@TheParrotKE) January 8, 2019
According to reports, the MP fled through Kokeb's hotel's back gate where he was addressing a group of youth.
Nakuru County Police Commander Hassan Barua and the area OCPD Samuel Obara have launched a man-hunt for the legistlator.
Bahati MP Kimani Ngunjiri and the likes rose to political supremacy because of lashing at RAO, now the handshake rendered them totally irrelevant. They have nothing else to do than pick up, cheap, irrelevant and meaningless fights. Am sure this ain't what @HonMoses_Kuria wanted pic.twitter.com/dEQ0LMcm4u

— Mukabana (@MukabanaJoe) January 8, 2019
I thought Nakuru was in Rift valley, why is Bahati MP Kimani Ngunjiri demonstrating for developments to be done in Mt Kenya region. Does he value his constituents? Hypocrisy of the highest order and selfishness at the same time.

— Western Point Man_JamesM (@jamesMA_ke) January 8, 2019
Bahati Mp Kimani Ngunjiri is an opposition leader in the making. He bootlicks Ruto and can form a wonderful opposition team together after 2022. Wakenya tusitupe hii chance. #Washenzi Nakuru by the way iko Central ama kwa corner? Hehe

— Muthomi Nyaga (@Muthomi_Nyaga_) January 8, 2019
The outspoken MP had on Sunday, January 6 asked the President to resign and call for fresh presidential polls if running the country was too much for him.
Now at least four police land cruisers have been deployed to make sure that the outspoken MP is arrested
The paunchy belly BAHATI MP,Kimani Ngunjiri is arrested insooth for incitement ?????….

Democracy is expensive to some goons like him lol pic.twitter.com/r2dqwz7CLe

— ALBOH_Nyakwara ?? (@nyakwara_albert) January 8, 2019
Do you have faith or fear Kimani too?