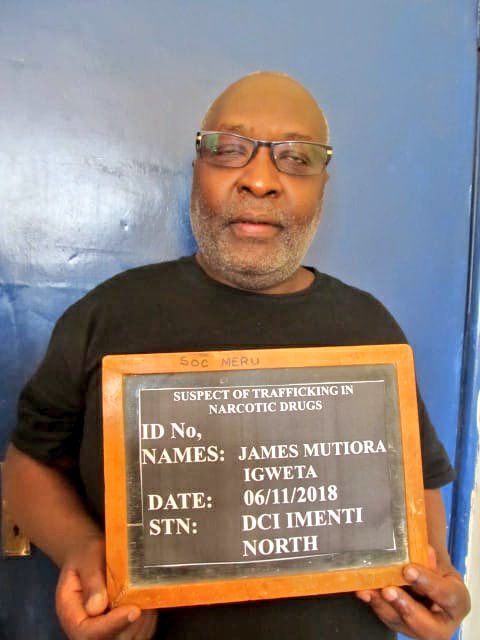 Police in Meru on Wednesday, arrested five suspected drug traffickers after they were found in possession of 103 kilograms of narcotics with an estimated street value of Ksh.3 million.
The Directorate of Criminal Investigations (DCI) said the five; four men and one woman, were arrested at Konje estate following a tip off by members of the public.
#ChargedToday|Five suspects found Trafficking Narcotics weighing 103Kgs & worth over 3million shillings will Today be charged in Court. The five; four men & one woman were arrested at Konje Estate within Meru Town by #DCI Detectives following a tip-off from members of the Public. pic.twitter.com/jHlQ4dstrd

— DCI KENYA (@DCI_Kenya) November 8, 2018
The five; James Igweta, Frida Kimani, Jacob Makunyu, Timothy Kinoti and Josphat Ekeno are expected to be arraigned on Thursday, November 8.
The arrest came two days after detectives nabbed narcotics worth millions of shillings at the Jomo Kenyatta International Airport (JKIA).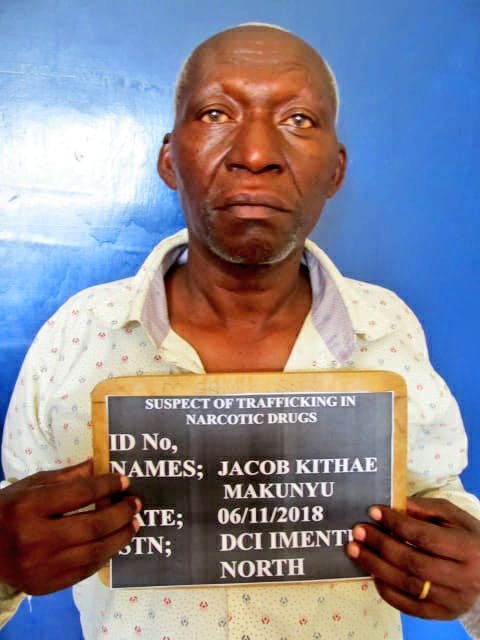 The arrest has elicited different reactions from a section of netizens with most of them asking the police to go for the powerful individuals also involved in the lucrative drug trafficking business.
My father's generation is something else, they've overseen the pilfering of the Kenya's resources, turned their daughters into slay queen & sons into zombies enslaved by drugs & cheap liquor. Can children curse parents? all they ever do is complain of 8-4-4 being a bad system

— David Mutie (@1mutie) November 8, 2018
These are mules. There are drug barons within the government you need to find out how the drugs get into kenya .

— Nick (@therealgakio) November 8, 2018
They are now using the aged for Trafficking Narcotics to elude the public eye due to our usual empathy to old citizens.

— #Jiwakilishe (@jiwakilishe) November 8, 2018
DCI also announced on Thursday that they had arrested an animal poacher with elephant tusks worth 12 kg. The man identified as James Muriuki and who is 43 years was arrested in Isiolo town on Wednesday.
#Poaching|Mr.James Muriuki aged 43 years was arrested yesterday in Isiolo Town by @DCI_Kenya Detectives and @kwskenya officers for being in possession of Elephant Tusks weighing 12 Kilograms. The suspect is currently in lawful custody awaiting arraignment in court. #StopPoaching. pic.twitter.com/ZETseehidL

— DCI KENYA (@DCI_Kenya) November 8, 2018