For the first time after more than one week since Sharon Otieno's mutilated body was discovered in a thicket in Kodera forest, governor Obado had a peaceful night.
I believe the governor slept well, knowing that he had started the process of cleansing his name. And soon, the name Sharon Otieno will disappear from the public limelight.
Yesterday, the governor managed to portray himself as a victim, a victim who has lost sleep and appetite because of political witch hunt.
Let me state here categorically that the governor has everything to do with the murder of Sharon. In fact he would be already in custody if he was an ordinary Mwananchi, but he is not only going to get away with it but he is also going to get a lot of political mileage from it.
Unlike other previous murder cases, Sharon's killers were amateurs who did a shoddy job. So how is Obado getting away with this? The answer is money. Money can buy you everything in Kenya. And luckily, Obado has unlimited access to tax payers coffers.
The governor invited the media to a press conference at Serena hotel, where he puked out nonsense telling us how he will co-operate to ensure the real killers are brought to justice. But is anyone else wondering why the journalists didn't ask questions? Of course, no one expects a murderer to come out and say, 'Yes I killed her!'
Let me tell you what happens at these press conferences. First, you should know that the most corrupt institution in this country is the media. Our journalist smell of impunity.
Now before the press conference, they were treated to a buffet. Because they're also gluttons, they ate like they were in a competition.
After eating like pigs, those idiots were given brown envelopes. So non of them could pose questions to Obado because digestion was taking place. They stood their, like Zombies listening to the governor talk trash. At the end, Obado didn't tell us his relationship with Sharon and why he was cheating on his wife. So many questions were not answered. Obado won the first battle. And now he has the media in his pocket.
Don't be surprised if Obado goes to church on Sunday to pray for his enemies. In fact he will be allowed to greet the congregation if he donates a handsome Sadaka.
In the coming weeks, expect a hashtag like #LeaveObad0Alone or #ObadoisInnocent on Twitter. A few influencers will be paid as little as ksh 527 to ensure this trends.
Before the end of the year, he will appear on Jeff Koinange Live because that is the soap that cleans impunity 'kwa mwosho mmoja tu'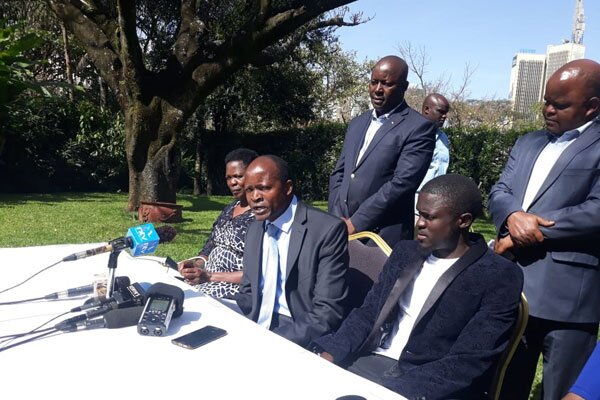 After that, every media station will want to interview him, because he will be hottest property on the market. And before you know it, Obado will be among the Presidential contestants.
All of us will forget about Sharon but not her family. Sharon was gang-raped by four people, before being stabbed eight times. Her naked body was then thrown at Kodera forest. But we are Kenyans, we forget too soon.