Good morning,
It is now time we promptly address cases of missing persons and kidnappings that are slowly becoming a national crisis.
Almost every day now we hear bizarre cases of missing persons, torture and murder involving even innocent kids as young as eight.
The latest incident is that of Hafsa Mohamed Lukman, a 23-year-old lady who was kidnapped by unknown people and grabbed the nation's attention after a scathing video of her emerged having blindfolds with both her hands and legs tied and scars showing that she had been tortured by her abductors.
The family said the people holding Hafsa had made a ransom demand of Sh5 million or they would kill her before she was rescued by police on Sunday.
This case mirrors Shantel Nzembi's murder probe where an eight-year-old girl who went missing last month was found in a gunny bag the following day.
Nzembi's mother Christine Ngina revealed that her daughter's abductors had demanded Ksh300,000 ransom from her.
These vices have not spared the higher learning institutions with the latest case of insecurity in universities forcing Masinde Muliro University students to take to the streets to protest the death of their fellow student who was raped and murdered in Kakamega.
Let's hope the special unit formed by Inspector General of Police Hillary Mutyambai to deal with increased muggings, murders and robbery with violence cases comes in handy, otherwise, this country risks dipping into an irreversible state of lawlessness.
Meanwhile, here are the stories making headlines on Opera News today:
Insider Exposes How Ruto Used to Sneak CSs to Karen After Meeting Uhuru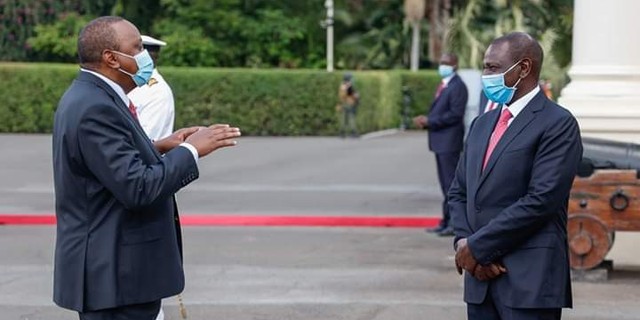 It has emerged that deputy president William Ruto used the trust that the Head of State had on him to make himself powerful by penetrating deep into the government system.
According to details revealed by the People Daily, the deputy president William Ruto was so powerful in the first term of the presidency that he was regarded as the de-facto president then.
Uhuru Dumps His Relative And Other Powerful Leaders All For Raila
President Uhuru Kenyatta has dumped some of the former powerful leaders who helped him craft the government in 2013 and 2017.
According to reports by the standard newspaper, President Uhuru has Stopped giving space to his Former Allies at the statehouse. Those who used to advise and handle most of his business are now left in limbo, not a where of his next move.
The Legends Are Back, KBC to Unveil New Look Tonight
After months of gruelling engagements, strategy and planning, Kenya's national broadcaster mega re-launch is finally here.
Kenya Broadcasting Corporation flagship brands: KBC Channel 1 TV, Radio Taifa and the English Service new look complete with a star-studded line up of presenters, is refreshing, entertaining, captivating and nostalgic of its flagship brands.
DP Ruto faced a lot of criticism over the weekend after he attended several political rallies that attracted thousands of people amid rising concern over COVID cases. Do you think these attacks on Ruto are warranted given his opponents have been holding rallies and meetings across the country too?