Good morning fellow Kenyans,
Today we come to the end of another week filled with political theatrics and drastic changes within the executive structure of the government.
However, as we go into the weekend, Kenyans will be waiting with bated breath for President Uhuru Kenyatta's address set for Saturday, June 6, as citizens are ready for the easing of some restrictions put in place to curb the spread of the COVID-19.
The Head of State had previously hinted that the government will loosen some of the restrictions, noting that lockdowns and curfews are unsustainable in the long term.
He noted that once the restrictions are partially lifted, Kenyans will be expected to remain responsible by wearing masks, washing hands and maintaining social distancing to curb the spread of the disease.
Moreover, Health CS Mutahi Kagwe on Thursday acknowledged that the government would ease some of the restrictions as it moves to adopt a home-care approach, but COVID-19 still remains a huge threat to Kenya.
But as the cloud of optimism hangs over Kenya amid the rise in infections, health experts have warned that most Kenyans are throwing caution to the wind by resuming old behavior that does not help to curb the spread of the virus.
Should Uhuru choose to potentially save Kenyans lives at the expense of livelihoods and a struggling economy?
Here are top stories making headlines today:
Our Lives are in Danger for Supporting Nairobi Metropolitan Service – MCAs
A section of Nairobi County ward reps claims their lives are in danger after they declared their support for the Nairobi Metropolitan Service(NMS).
Led by Makongeni MCA Peter Imwatok and Nominated MCA June Ndegwa, the MCAs raised the concerns on the floor of the assembly Tuesday when the House resumed after a three-month recess.
Peponi School Alumnus Recalls her Experience With Racism at Kenyatta-Owned Learning Institution
In the wake of the global 'Black Lives Matter' movement against racism in the US and other parts of the world, Kenyans too have been jumping on the bandwagon to share their experiences with racism.
On Thursday, we published a story of Julie Gichuru's encounter with a White Guy Who Believed Black People are Dirty, Lazy Criminals.
Magufuli Mocks Kenya's Impending Food Shortage [VIDEO]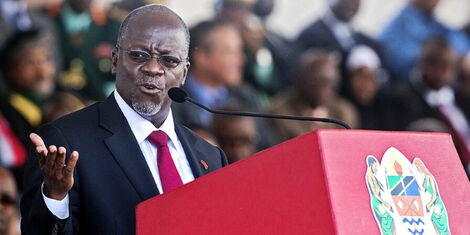 Tanzania's President John Maghufuli has mocked countries that instituted strict measures to curb the spread of Covid-19, which are now struggling with food security.
In a video that surfaced online on Thursday, June 4, he asked Tanzanians to sell food at higher prices to other countries.
With only two years remaining in his second and final term, President Uhuru Kenyatta is seemingly pushing for constitutional changes in a bid to defend his legacy. One of the key issues in Uhuru's agenda is inclusivity to avoid a repeat of elections violence as witnessed in 2017 and 2007. Do you think the President is likely to achieve this agenda even as a section of members in his own party decry of being sidelined and mistreated?