Good morning,
Today, we start a brand new week amid ever-rising coronavirus cases in the country. The government on Sunday announced 57 new infections, the highest the country has registered in a single day yet.
This comes just a day after President Uhuru Kenyatta extended the nationwide curfew and cessation of movement in and out of hotspot counties for a further 21 days.
Despite the noble intention by the government to curb further spread of the deadly virus, it is the high time the authorities acknowledge the disease is here to stay as revealed by the World Health Organization (WHO) last week.
This means that without a vaccine, COVID-19 will become just another endemic virus in the community like other previous novel diseases such as HIV which have never disappeared, but effective treatments have been developed to control their effects.
Notwithstanding the risk that loosening restrictions could lead to infection spikes, some countries especially European nations have realised this and have been seeking to reopen their economies even as the virus continues to kill hundreds daily.
Therefore, instead of imposing more restrictions on vulnerable Kenyans in a bid to curb the spread of a virus that is not going anywhere any time soon, the government should be more proactive and enhance testing, contact tracing and medical care of confirmed cases.
On a more positive note, Kenya Medical Research Institute (Kemri) has identified a herbal medicine, Zedupex, which is used to treat genital herpes as a potential drug for curing coronavirus. Moreover, WHO has announced advanced stages of the development of an effective vaccine.
We can now only hope that these potential treatments are developed and approved soon enough since it is our only way out.
Here are the top stories this morning:
Next Target in Jubilee Senate Purge Revealed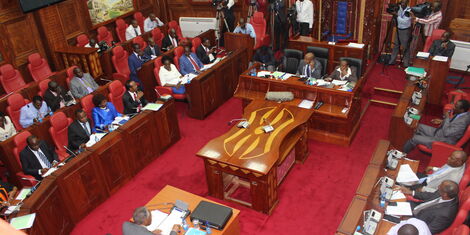 The Jubilee Party Senate purge is set to continue into this week with Majority Chief Whip Irungu Kang'ata revealing a plan to oust Deputy Speaker Kithure Kindiki.
The process begins on Monday, May 18 with the drafting of an ouster motion which is set to be tabled in the Senate on Tuesday.
Our Economy Comes First in Covid-19 Fight, Says Magufuli
President John Pombe Magufuli on Sunday said that Tanzania's handling of the Covid-19 pandemic is in such a way that the country's economy comes first and above everything else.
"We have had a number of viral diseases, including Aids and measles. Our economy must come first. It must not sleep. If we allow our economy to sleep, we will not receive salaries….Church offerings will cease if we announce a lockdown….Life must go on," he said.
Nurses Strike Called Off for 21 Days
Healthcare workers have suspended their strike, which was set to start on Monday to give dialogue a chance.
In a joint statement on Sunday, the unions said they have given the government 21 days to dialogue, failure to which they will go ahead with their strike.
A man in Tharaka Nithi reportedly sealed his wife's genitals with superglue over cheating allegations. Do you think such jilted lovers have underlying mental issues to result to committing such heinous acts?