Good morning fellow Kenyans.
Even before our local tabloids for April 8th hit the streets, social media was already abuzz over its headlines.
The cover page of one of the dailies pulled a shocker and elicited mixed reactions after it brought to the fore that 17MPs and Senators had tested positive for COVID-19.
To my consternation, celebratory messages were notable as Kenyans took to social media to react to the knowledge.
In the wake of a disaster, Kenyans have shown exemplary solidarity and support to the affected lot.
A flashback to 2018 reminds me of the famous #WeCannotIgnore, where Kenyans joined hands, on social and mainstream media, to seek funds for the victims of hunger in Turkana.
The unity call, then, overrode public criticism towards authorities. Kenyans understood that the task required a collective effort and not unnecessary condemnation. Kshs1 billion was raised, thanks to the true Kenyan spirit.
However, our smartphones which in 2018 made clarion calls of helping the hunger victims have turned to be divisive tools and means of fueling unwarranted criticism against the government as it endeavours to arrest the spread of COVID-19.
The Coronavirus pandemic is not for the rich nor the poor. In Swahili, they say; 'when your fellow's head is being shaved, water yours for you are next.'
This is a time of war and we are on the battlefield. We have no option other than uniting against the common enemy that is Coronavirus.
That MPs are the latest victims of the pandemic should not attract any celebration whatsoever. Mark you, less we unite we will all perish.
Here are our top stories today:
MPs and Senators Test  Positive for COVID-19
Several MPs were randomly tested last week and their results came out on Monday, causing panic and anxiety in the bicameral House.
"They are suspecting 17 Members of Parliament have been tested and turned positive. The information is not clear but it's members and staff. So that is the reason why the House was suspended," a legislator said on condition of anonymity.
We cannot reveal their identities because it is against the law to reveal someone's health status without their permission.
Heavy rains force cops out of roadblock as stranded motorists capitalise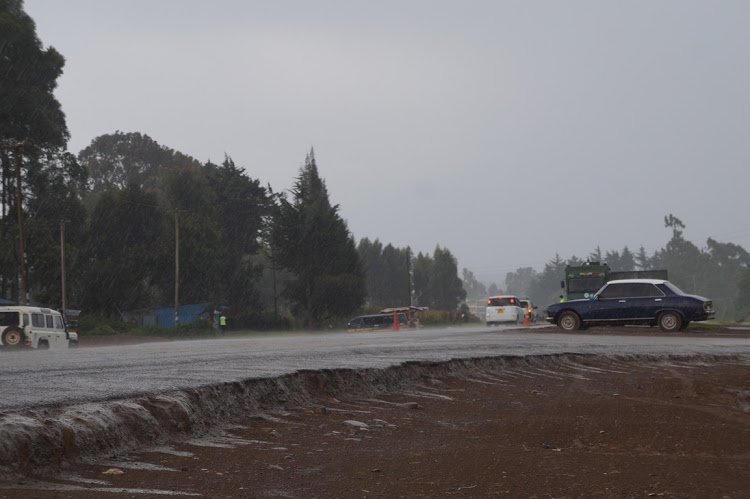 Stranded motorists on Monday took advantage of heavy rains that forced police officers out of roadblocks to enter and leave Nairobi despite an order for cessation of movement in and out of the city.
President Uhuru Kenyatta on Monday ordered a cessation of movement in and out of the Nairobi Metropolitan area beginning on Monday, April 6 at 7 pm.
But police manning the roadblock at Uplands on the busy Nairobi-Nakuru highway abandoned the barricade as heavy rains poured.
Movement ban a nightmare for Kenyans
Grieving members of a Ugenya family in Siaya cannot believe that they can't ferry the body of their loved one from Kibwezi in Makueni county to their rural home for burial.
The family arrived in Kibwezi on Monday morning to collect the remains of their relative who died in unclear circumstances on Saturday night.
The return-journey was scheduled for Tuesday morning, but they could not proceed following the executive order banning the movement of people in and out of Nairobi.
With many Kenyans stranded on the roads following a cessation directive issued by President Uhuru Kenyatta on Monday, Is the Head of State to blame given that he did not give Kenyans ample time o regulate their movements and avoid the unnecessary confrontation with the police?