Ex-NTV's the trend TV show host Larry Madowo has found himself in the midst of the deadly coronavirus patients.
Taking to his twitter account, Larry, who is at Netherlands, wondered why more people than usual are wearing surgical masks at Amsterdam Schiphol.
"More people than usual wearing surgical masks at Amsterdam Schiphol. Do they know something I don't?" he wrote.
His worried fans have advised him to protect himself before it's too late after Netherlands reported the first case of coronavirus death.
Netherlands just confirmed their first death of a patient with the Corona Virus

— Dee Keay (@dee_keay) March 6, 2020
Corona is no Joke.

— NYAANGA ROBERT (@NYAANGAR) March 6, 2020
People protect themselves more than we imagine, it's just that the surgical masks are visible…😉

— Kinuthia Gatheru (@kgatheru) March 6, 2020
Be cautious

— MOTAROKI JUSTUS (@MotarokiJustus) March 6, 2020
Do what the Romans are doing, if you can't beat them……

— Oliver Tambo (@OliverTambo) March 6, 2020
Coronavirus scare
The first patient in the Netherlands dies as a result of the coronavirus outbreak.
An 86-year-old man admitted to the Ikazia Hospital in Rotterdam with a Covid-19 infection died on 6th Friday, public health institute RIVM announced.
The source of the 86-year-old man's infection is not clear, the RIVM said. He was cared for in quarantine at the hospital after his Covid-19 tests came back positive.
The hospital and municipal health service GGD mapped out everyone who had been in contact with the man.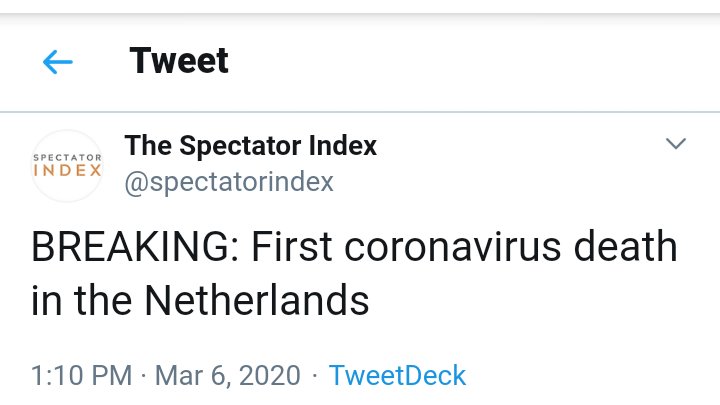 "Symptoms of the disease are fever and respiratory symptoms such as shortness of breath or cough. A person with fever and respiratory complaints and who has been in an area where Covid-19 is widespread in the last 14 days can be tested for Covid-19," the RIVM stated. Symptomatic patients who have been in contact with a Covid-19 patient will also be tested.
Here is Larry's tweet
More people than usual wearing surgical masks at Amsterdam Schiphol. Do they know something I don't?

— Larry Madowo (@LarryMadowo) March 6, 2020