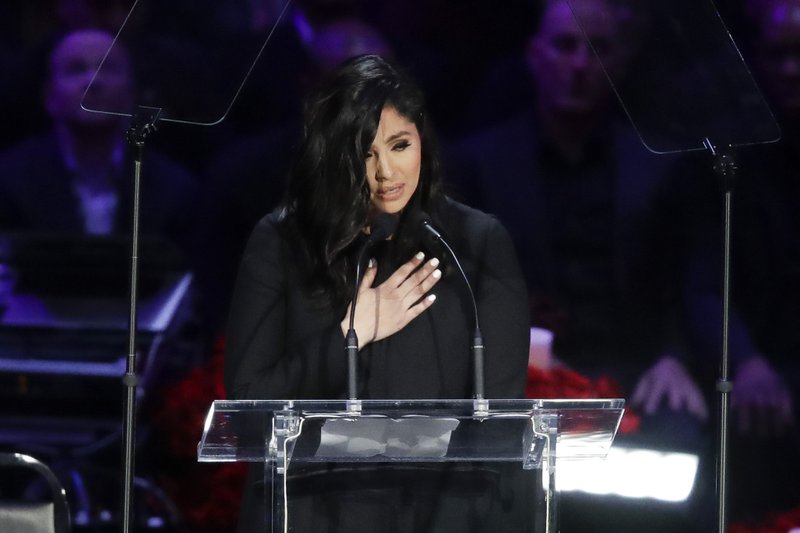 The late NBA star Kobe Bryant's wife, Vanessa Bryant, emotionally eulogized her husband and daughter Gianna during their farewell service titled a Celebration of Life.
Addressing the huge crowd, the legendary's wife described Kobe's magic arms and his relationship with their daughter, Gigi, terming their loss as something she did not understand.
Venessa went o to say that she was Kobe's first love and confidant.
"Kobe was mine. He was my everything. I was his first girlfriend, his first love, his wife, his confidant and his protector," she said.
"He isn't going to be able to walk our girls down the aisle or spin me around on the dance floor".
She went on to say that she wants her daughters to keep the memories of their loving father.
"But I want my daughters to know and remember the amazing person, husband and father he was, the kind of man that wanted to teach the future generations to be better and keep from making his own mistakes."
In a very emotional speech about her lovely daughter Gianna, Vanessa described her as an amazingly sweet and thoughtful soul, who loved baking and dancing, as well as being a talented basketball player.
Adding that she regrets she will not witness her daughters wedding.
"Gianna would have been an amazing mommy," she said.
"I'll never get to see my baby girl walk down the aisle, have a father-daughter dance with her daddy, dance on the dance floor with me or have babies of her own."
The mother of three now described her late daughter and her husband as lovers of life and adding that they God knew they couldn't be on this earth without each other.
"God knew they couldn't be on this earth without each other he had to bring them home together," said Vanessa.
Earlier, Mrs Bryant announced she is suing the owner of the helicopter in which her husband, her daughter and seven other people were travelling when it crashed in fog.
The memorial service was held at the Staples Centre for NBA star Kobe Bryant and his daughter, Gianna, 13, who were killed in a helicopter crash on January 26.
The strength of Vanessa Bryant, to get up there in front of a sold out Staples Center & talk about this tragedy, it's out of this world. Prayers out to this woman & the entire family.
We miss you Kobe & GiGi 💜💛
pic.twitter.com/sCfCWbhXhJ

— Sterling (@SterlSilva) February 24, 2020