Good morning,
The stubborn and irritating desert locusts might have just committed their first costly mistake after deciding to invade Bungoma County.
County authorities have declared that Bungoma is ready to deal with the locust menace, in fact, information on the ground is that this could be the last area the insects visit in Kenya.
Despite warnings that eating the locusts could be harmful, pictures shared on social media have shown our brothers enjoying a delicacy of fried locusts and ugali.
With the locusts, you neither need the expensive tomatoes nor cooking oil to make a stew. Just find a way to catch them in their millions and a gigantic ugali.
So why has the government spent millions trying to contain the insects when a more environmentally friendly solution has been available all along? If we took a few Bungoma residents to the Somalia border where the locusts started, we wouldn't be where we are today.
If the Luhya community can stop locusts, then we should all be very concerned when Deputy President William Ruto claims that he might try to stop reggae.
According to the DP, reggae has gained a new meaning in the BBI rallies. It is all about ethnic profiling of communities and spreading hate.
But if he manages to stop the reggae, would we be wrong if we say he is a nobody? According to Lucky Dube, only Nobody can stop reggae!
Here are the stories making headlines this morning:
Kenei's Family to Hire Private Detective
The family Seargent Kipyegon Kenei, who was attached to Deputy President William Ruto's office, are considering hiring private investigators to probe his death.
They have protested how the police are investigating the circumstances under which he was found dead in his Imara Daima home.
The Keneis want their private investigators to conduct an independent probe before the police "interferes" with the scene of the crime.
Census Results and 2022 Arithmetics
Some 14 counties could influence President Uhuru Kenyatta's successor as they account for more than half the potential voters in 2022.
These are counties that will have an average of one million eligible voters each, with the register expected to have 29.6 million voters in the next General Election if all those aged above 18 are listed.
Narok Senator to Appear Before DCI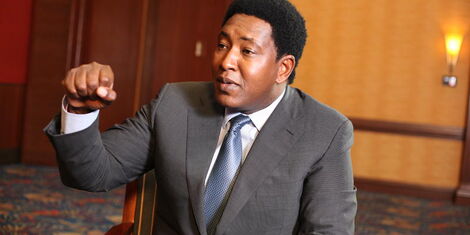 The Directorate of Criminal Investigations has summoned Narok Senator Ledam Ole Kina over utterances he made when he appeared on the JKLive on Citizen TV on Wednesday, February 19.
In a statement seen by Opera News, Ledama was asked to appear before the DCI Narok Office on Monday, February 24, to shed light on the utterances he made on TV.
All Luo Nyanza Governors have developed a habit of following ODM leader Raila Odinga for the BBI rallies in different parts of the country. Unfortunately, some of these governors have nothing to say when they address these rallies. Do you think the governors are needed to attend the rallies?