Following the sudden death of award-winning gospel singer Papa Dennis, veteran musician Ringtone Apoko has been on the frontline in ensuring the artist is given a befitting send-off.
The self-proclaimed chairman of the gospel industry is currently rallying Kenyans to contribute for Papa Dennis's burial.
Speaking during an interview with radio citizen's Mambo Mseto show, Ringtone confirmed that Papa Dennis died after he allegedly fell from a building adding that he was among the first people to arrive at the scene.
He went on to say that the late Papa Dennis's had several injuries, his left leg was broken and he was bleeding at the back of his head.
"Mguu wa kushoto ulikuwa umevunjika na katikati ya hip na magoti hiyo mfupa pia ilikuwa imevunjika na kichwa na mgongo alikuwa ameumia na damu ilikuwa inatoka sana na amekufa.kwa hivyo naweza dibithisha kwamba Papa Dennis alifariki kutoka angani vile alivyo toka angani sisi hatuwezi kujua,"he said.
"Ule msani aliweza kutoa Papa Dennis nguo ili askari weweze kuona ni mimi niliweza kugeuza mwili wake sikuogopa."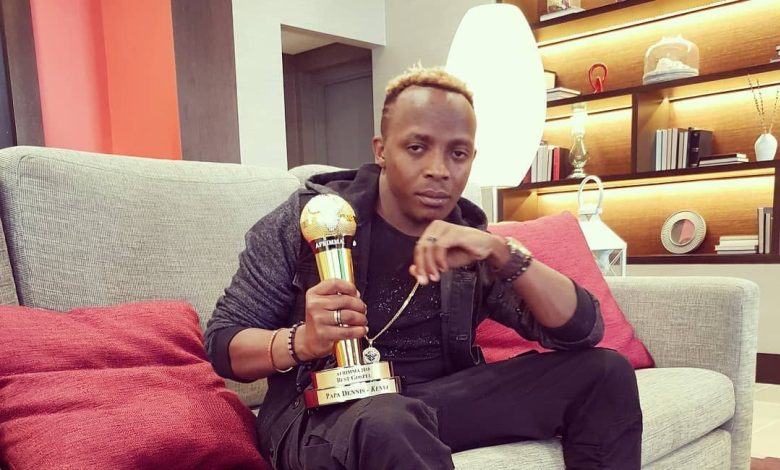 Ringtone further narrated that Papa Dennis might have died because of depression and pressure.
"Papa Dennis kwangu alikufa kwa sababu ya stress, Papa Denis alikufa kwa sababu mambo yake hayakuenda vile alitarajia, ile life alitaka kuishi haikufanyika hivyo,"he said. 
Papa Dennis 's Death
Papa Dennis was found dead near Jubilee Headquarters in Pangani after he allegedly jumped from the seventh floor of a building.
According to Mash Mjukuu, the owner of Nairobi Records where the singer was seen last before his death, the postmortem report cannot tell whether the cause was suicidal or homicide.
Samples were taken to the government chemist in order to test and determine whether he was under the influence of any substance as DCI continues with the investigations.
A postmortem exam conducted by Dr. Josph Ngung'u reveals that Papa Dennis died as a result of deceleration.
Watch Ringtone's full interview