After years of absence from the political arena, former Gichugu MP Martha Karua seems to have resurfaced after deconstructing Statehouse spokesperson and Head of President's Strategic Communication Unit (PSCU) Kanze Dena following her recent remarks on the BBI.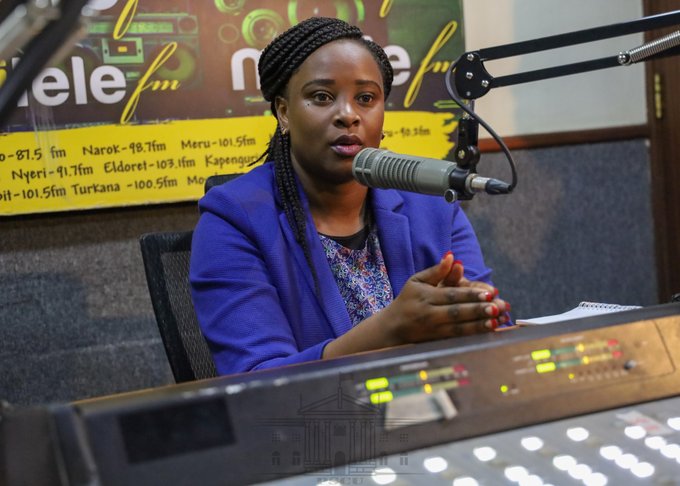 Through her Twitter account, the former vocal legislator wondered why the state, through Kanze Dena was busy misleading Kenyans through the BBI when it had not actually fulfilled what it promised in Bomas.
While thrashing Kanze Dena's remarks, Karua wondered why the government was so swift in pushing for the initiative without first availing copies for its citizens as earlier promised.
"Then why is it being rushed without giving citizens copies as promised during the Bomas launch," posed Martha Karua.
We need to see more openess and tolerance of divergent opinions. https://t.co/aMBRQzOp0a

— Martha Karua (@MarthaKarua) February 18, 2020
Karua was responding to remarks made by Kanze Dena on Tuesday when she appeared at Milele FM for an early morning show.
Speaking at the station, Dena communicated that the initiative was meant to craft a progressive country by fixing some challenges dividing Kenyans which have been experienced over the years.
"BBI is about crafting a cohesive and progressive country by fixing some of the challenges facing the nation especially those brought about by the divisive nature of Kenya's electoral politics," said Dena
The government spokesperson continued to dispel fears that the BBI was not about 2022 politics but rather the betterment of Kenyans.
As repeatedly said by the President and former PM @RailaOdinga, #BBI is not about political parties and the 2022 election ~ @KanzeDena | #AlexNaJalas pic.twitter.com/GrcabSN8fr

— State House Kenya (@StateHouseKenya) February 18, 2020
Despite this, many Kenyans were quick to castigate Dena. According to them, the BBI was purely political and only meant to mend ties between the Dynasty families.
Others accused her of majoring on the BBI when the country was facing serious threats like the locusts invasions. Here are some comments from Twitter users;
"I don't see the reason for repeatedly spreading lies to Kenyans, BBI and handshake are personal decisions to mend severed ties between two dynasty families, and as a result reward loyalists of the two
#alexnajalas
" posted one user.
Moudryne Marx Teddie,,,The handshake n BBI are meant to bring peace n longtime atrocities that has existed btn da Odinga,,, Moi n Kenyatta families( Dynasties ) ,,,,n not for WANJIKU!!!!,,,,,,,
HOW do you sleep at night? What is BBI when you have no plans for the locust invasion (food security), Coronavirus (health) or done anything about CBC (education) Corruption and the heavy external debt?! CoK2010 doesn't need fixing because you haven't implemented it. RESIGN!
This can only be told to the birds.The verbal attacks on some section of leaders during the BBI rallies divides other than building the bridges. What about the said governor from Central Kenya who was stopped from photocopying the report? What is being hidden?

— stephen gatotho (@stephengatotho) February 18, 2020